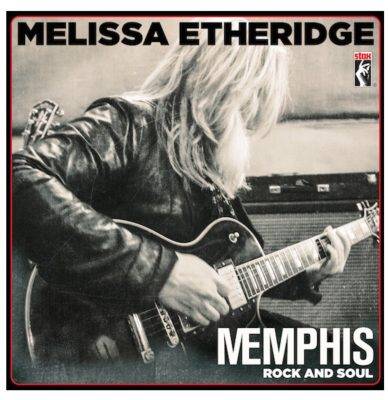 Melissa Etheridge
Memphis Rock & Soul
Stax Records/Concord Music Group
Melissa Etheridge is a rock singer-songwriter who has fifteen Grammy Award nominations. She won for Best Rock Vocal Performance in both 1993 and 1995. Like her contemporary Cyndi Lauper she has been inspired by the roots of blues, rock and soul and chose to further explore those roots by recording in Memphis.
Etheridge honors the rich musical history of Stax Records by recording at the historic Royal Studios now run by Willie Mitchell's son Lawrence "Boo" Mitchell. Among those gathered for the session are the Hi Rhythm section now comprised of the Rev. Charles Hodges, organ; Leroy Hodges, bass; and Archie "Hubbie" Turner, keyboards. Also added are Michael Toles, guitar, and James "JRob" Robertson, drums. The horn section includes veterans Lannie McMillan, Jr.; Kirk Smothers; and Jim Spake, saxophones; and Marc Franklin, trumpet. The background vocalists are Sharisse Norman, Stephanie Bolton and Candice Marshall.
Etheridge opens with "Memphis Train" co-written by Rufus Thomas, Willie Sparks, and Sir Mack Rice; and originally recorded by Thomas in 1968. Etheridge's raspy voice is delightful as she also plays some harmonica. The fabulous horn section adds the finishing touches.
"Respect Yourself (People Stand Up)" from Luther Ingram and Mack Rice also includes some new lyrics written by Etheridge. The song was originally waxed by The Staple Singers in 1971. The production stays true to the original.
"Who's Making Love" co-authored by Bettye Crutcher, Don Davis, and Homer Banks was first recorded by Johnnie Taylor in 1968 and sold over a million copies.
"Hold On, I'm Coming" was written by songwriters David Porter and Isaac Hayes who together penned over 200 songs. It was a 1967 hit for Sam and Dave. Toles' fantastic rhythm guitar opens the tune but the horns are the icing on the cake.
"I've Been Loving You Too Long" was written and recorded by Otis Redding in 1964. It is beautifully sung by Etheridge. "I've Got Dreams to Remember" also written and sung by Redding wasn't released until 1968 after his death in a plane crash.
"I'm a Lover" was written by Jimmy McCracklin and Lowell Fulsom. It's got some new lyrics from Etheridge as it's an adaptation of "Tramp" sung by Otis Redding and Carla Thomas in 1967. This is a great production from co-producers John Burk and Etheridge.
"Rock Me Baby" was written by B.B. King and became his first single when it was released in 1964. This is a balls-to-the-wall performance by Etheridge. John Mayer sits in on lead guitar. "Wait A Minute" was written and sung by Barbara Stephens circa 1968. Etheridge gives the blues harp another go.
Three more songs are included. "Any Other Way" written by William Bell is a fantastic vehicle for Etheridge. "I Forgot to Be Your Lover" and "Born Under a Bad Sign" were both co-written by Bell with Booker T. Jones. The later was recorded by Albert King in 1967; once again Etheridge gives an impressive reading while Meyer sits in again on guitar.
I have never been a fan of Etheridge's; that is until now. She rocks.
Richard Ludmerer