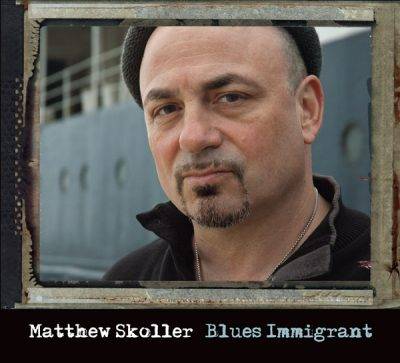 Matthew Skoller
Blues Immigrant
Tongue 'n Groove Records
Harmonica player and vocalist Matthew Skoller was born and raised in New York City. He relocated to Chicago in 1987 and began apprenticing with Jimmy Rogers, Big Daddy Kinsey, Big Time Sarah, and Dietra Farr. Skoller's first recording was 1996's "Bone to Pick With You". He followed up with 1999's "Shoulder to The Wind"; 2003's "TapRoot" and 2005's "These Kind of Blues".
In 2011 Skoller played harmonica on the Grammy nominated "Chicago Blues A Living History" and co-produced and played on it's sequel "The (R)evolution Continues" winning the Traditional Album of The Year at the 2012 Blues Music Awards. He also played on the Grammy nominated "Still I Rise" by the Heritage Blues Orchestra.
From The Living History Band are Skoller, harp and vocals; Johnny Iguana, keyboards; and Felton Crews, bass. Guitarist Carlos Johnson also guests on two tracks. Completing the band are Giles Corey and Eddie Taylor, Jr. guitars; and Marc Wilson, drums.
Skoller has written or co-written eight songs, six of them with co-producer Vincent Bucher.
"Big Box Store Blues" is a song Skoller adapted from "Welfare Store Blues" written by Sonny Boy Williamson I and originally recorded in Chicago on May 17th 1940. On Skoller's version he longs for the old mom and pop stores as he sings about BJ's or Sam's Club. Skoller's vocal and harp style reminds me of Billy Boy Arnold.
"The Devil Ain't Got No Music" is the song Skoller wrote that was the title track of Lurrie Bell's 2012 album. That album was also produced by Skoller. Wilson's beats out an interesting rhythm on his drums. "Tear Collector" is about love lost; "The little girl stole my tears".
"Blues Immigrant" is the centerpiece of this album. The liner notes include Skoller's fictitious passport used to enter Chicago; he was 22 and born in Brooklyn. "Have I paid enough dues? I need a green card to play the Blues". "Only in The Blues" is a Bob Dylan styled song about the situation found only in the Blues. "We make 250 for a group of four or five; we gotta play three 60's…" "Story of Greed" is about the top 1%. "They have more money than a country can spend, and their quest for more is all they defend". "Organ Mouth" is a fabulous harp instrumental by Skoller.
Then there are three selected covers. "747" was written by Haskell Sadler also known as Cool Papa Sadler. It appears on Joe Louis Walker's "Live at Slim's Vol. #2 released in 1992. It's a fantastic song and a great version; unfortunately Sadler passed away in 1994. "Get Down to The Nitty Gritty" is from Luther "Snake Boy" Johnson; in 1969 he was a member of The Muddy Waters Blues Band. The closer is another instrumental, "Blue Lights", from Papa George Lightfoot who passed away in 1971.
Skoller is a great songwriter. He is also a real bluesman. This new album should further his reputation.
Richard Ludmerer