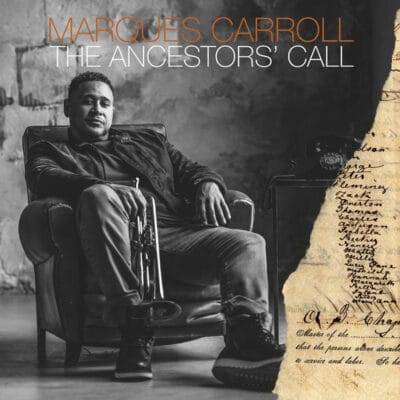 Marques Carroll
The Ancestors' Call
JMarq
This is the debut of trumpeter Marques Carroll leading his quintet, but Carroll is no stranger to Chicago audiences as a member of the Chicago Soul Jazz Collective and the Count Basie Orchestra. This project, The Ancestors' Call, pays homage to his ancestors and heritage. Joining Carroll is his tight-knit quintet featuring alto saxophonist Brent Griffin, pianist Amr Fahmy, bassist Christian Dillingham, and drummer Greg Art as well as special guests Victor Garcia on congas, trombonist Alex Wasily, and vocalist Sharon Irving.
On The Ancestors' Call, Carroll weaves poignant stories of strength and resilience, integrity and pride, and spirituality and culture over the course of eight original compositions, presenting listeners with a deep spiritual exploration of the African diaspora, told from his own unique perspective and informed by the experiences of his elders. Arranged in eight sections, narratively ordered, the guiding voice of The Ancestors' Call is an unnamed elderly man who symbolizes the voice and call of Carroll's African American ancestors. He shares his story of the beginning with "The Ancestors Call Upon Us," the driving album opener. "His voice is rooted in the sound of the drums and yet the other ancestors speak in melody with him, calling us to listen and to learn from the collective," Carroll remarks. With fervent refrains, Carroll's horn soars over the rhythm section, while Wasily's trombone spot is also impressive. Carroll's inventive horn arrangements and the rhythm section's tight pocket are on full display during "Generational Response", which reflects on just that – the response from the younger generation with expressive turns from altoist Griffin and pianist Fahmy.
"Assemble the Enlightened" is a rousing ensemble piece and fiery call to action that prominently features improvisation again from Carroll, Griffin, and Fahmy. This sets up the next track which challenges the audience to look past physical or inner battles to move forward. The impassioned "Beyond the Battle" begins with cacophonous sounds, and resolves to a refined groove, pushing steadily, building in intensity. "Urgency" begins with the bandleader's intro and develops into a Latin-tinged melody, well-supported with a propulsive rhythm from Arty, Garcia, Dillingham and Fahmy, the kind of music one might associate with a film score about conquistadors. The piece serves as a reminder to move with purpose. The album's standout track, "Aries Goddess (For Consuela and the Fallen)," pays tribute to a mother who is running to her son as she hears that he has just been gunned down. The bandleader notes that "this happens all too often whether it is by street violence or by the hands of those who are supposed to serve and protect. This piece is for all of our brothers and sisters who have lost their lives on this soil." Griffin's emotive solos and vocalist Sharon Irving put the exclamation point on this far too often story of loss.
"Resolution For Us" reflects on the hope for peace of mind and heart recovering from tragedy. Carroll and Griffin weave soulful and passionate melodies throughout a piece that is filled with harmonic and rhythmic flourishes. Bassist Dillingham leads us into "Our Ancestors Final Words" which builds to similar energy of the opener with a deep, lively swing and stunning solos from the front line horns. The bandleader notes that the ancestors deliver a powerful story during the closer that conveys "we come from strength and determination. Let us not forget who we are."

Marques Carroll makes a bold, important debut as a leader. This is passionate music that deserves your ears.
– Jim Hynes
Find our Podcasts on these outlets
Help Support Making a Scene
Your Support helps us pay for our server and allows us to continue to bring you the best coverage for the Indie Artists and the fans that Love them!
Make a one-time donation
Make a monthly donation
Make a yearly donation
Choose an amount
Or enter a custom amount
$
---
Your contribution is appreciated.
Your contribution is appreciated.
Your contribution is appreciated.
Donate
Donate monthly
Donate yearly
You can donate directly through Paypal!
Subscribe to Our Newsletter