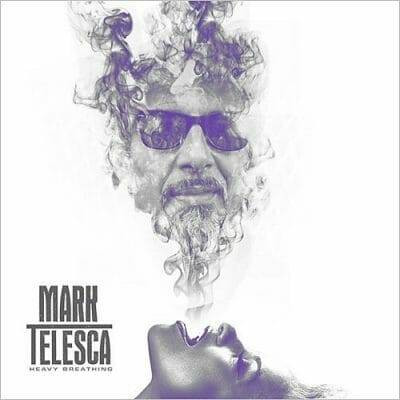 Mark Telesca
Heavy Breathing
Independent
Originally from New York City Mark Telesca studied music at Florida Atlantic University and now lives in West Palm Beach. Telesca held the "bass chair" in many Broadway productions but his real passion is the Blues.
Formerly a member of the band "Blues Dragon" Telesca competed in the 2012 International Blues Challenge. Telesca also tours with 2014 Blues Music Award winner Diunna Greenleaf in her band "Blue Mercy". He formed The Mark Telesca Band in 2014 and returned to this year's IBC making it all the way to the finals. Telesca also hosts the weekly Monday night blues jam held at The Funky Biscuit in Boca Raton. This is Telesca's first recording in his own name.
The Mark Telesca Band is Telesca, bass and vocals; Robert Allen Gibbs, guitar and dobro; Tony Monaco, keyboards; Rico Geragi, percussion and Fred Weng, drums. Guesting is Steve Laudicina, guitar.
Telesca's clear vocals are impressive but it's his songwriting that will hook you. Telesca has written or co-written all but one of the songs. "I Don't Need Your Lovin' Anymore" is the perfect choice as the opening track. Gibbs guitar punctuates the lyrics.
"Paint It Blue" was co-written with keyboardist Monaco who is featured on piano. The song is indicative of Telesca's sense of humor. Bridget Adderly; and Josh Rowand, of The Pit Bull of Blues Band, sing backup. "Funky Stuff" is sort of a talkin' blues.
Telesca sounds like Rick Estrin when he sings "If You Got Enough Jack, you can get any Jill". "Tell Me", features Geragi on percussion, "why you treat me like the way you do, seems like one of these days I'm gonna' be the death of you". My favorite however just might be "Living in the Past" with the line "5' 5", just the right lovin' size".
"Evil" is the only cover as it was written by Willie Dixon for Howlin' Wolf who recorded it in 1954 and again in 1969. Monaco is on piano while Gibbs takes an impressive guitar solo.
"Cross The Dog", is an original tune but is based on blues history. The Southern and the Yazoo Delta (a.k.a. the Yellow Dog) were both railroads and their tracks crossed in Moorhead, MS. "I'm goin down to the old crossroad, get down on my knees gonna sell my soul, goin down to where the Southern cross the Dog".
Telesca closes with the title track "Heavy Breathing". This new album from Telesca should receive a significant amount of airplay.
Richard Ludmerer