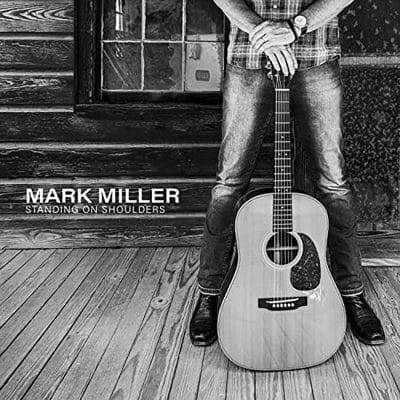 Mark Miller
Standing on Shoulders
Self- released
Singer-songwriter Mark Miller has released one the most impressive independent Americana story albums. New to this writer, we've learned that the Georgia- born Miller had almost a 20-year career in Contemporary Christian and Gospel music but he has returned to roots music to make a deeply personal record. The impetus was the death of his father due to COVID-19 in 2021. That's when Miller decided that his family history needed to be preserved in song. Some of this is first-hand but most of it is third hand at best, yet is comes across authentically and in many moments, poignantly. The title track is clearly the epitome of the latter, as Miller sings about his great grandfather, "a fire that burned until the day he died…though he's gone and I'm getting older, I'm standing on great grandfather's shoulders."
Miller's voice is not the most distinctive, but it works well, easy on the ears and touches of Vince Gill. He rounds out his literate songs with full instrumentation featuring multi-instrumentalist and keyboardist Jeff Taylor, guitarist Alex Nifong, string man David Ellis, bassist Drew Lawson, drummer Matt Crouse, and cellist Scott Peters. His long-time friend ad -writer Robin Dean Salmon of Surrender Hill produced this well-crafted effort. Salmon is a terrific writer too as heard on "Superman (I'll Be Your Ghost)" – "when you die I'll be your ghost." Another lyric from this terrific song appears on the inset – "With a furrowed brow/clenched fist/and spine of steel/Dave took on an unfair world/with a preacher's zeal."
Miller unearthed quite a bit of ancestry in putting this together. Eight of the ten are directly from his family history. The opener "Hard Providence" is about his great-great step grandfather's brother, hearkening back to the Civil War. He continues this theme in "Rebel Blue," imbued by Taylor's Irish whistle, which he dedicates to four great-great-great grandfathers. Throughout the album he names two more great-great-great grandfathers in "I Wonder" and "War Is Hell" respectively. "The Ballad of Uncle Willie" is for his great-great grandmother's youngest brother. It's not until he gets to "Under Magnolia" that he addresses his dad. "Tragedy" is about four family members who passed too soon.
As you listen, you're just hoping to pull out a lyric booklet to follow these great stories but it's not there. Nonetheless we hear the impact these people had all those around them. Much of it isn't pretty. Miller sings of murder, suicides, drownings, victories and defeats. And, yes, he's not afraid to touch on the South's ugly side. It's the stuff of hard work and sacrifice as Miller goes from the Civil War to the Great Depression, the Dust Bowl and little that is contemporary although it's all here to explain how those who came before him shaped what he is today. Musically, "I Wonder" is one of the most emotional with a terrific electric guitar solo from Nifong. "War Is Hell," about his GGG grandfather's many battle assignments, has a driving bluegrass accompaniment. "Under Magnolia" is the purest folk rendering, with Miller' acoustic guitar prominent – "his heartbeat lives in this earth/so I'll keep my feet to the ground/with a silver dollar dug from red clay dirt held in my hand/hear the sound/my father laughing with my mother/under magnolia." One can almost see a tear dripping down his face as he sings it.
The 38 minutes go quickly but the impact lasts for days, even weeks or longer.
Help Support Making a Scene
Your Support helps us pay for our server and allows us to continue to bring you the best coverage for the Indie Artists and the fans that Love them!
Make a one-time donation
Make a monthly donation
Make a yearly donation
Choose an amount
Or enter a custom amount
$
---
Your contribution is appreciated.
Your contribution is appreciated.
Your contribution is appreciated.
Donate
Donate monthly
Donate yearly
Subscribe to Our Newsletter