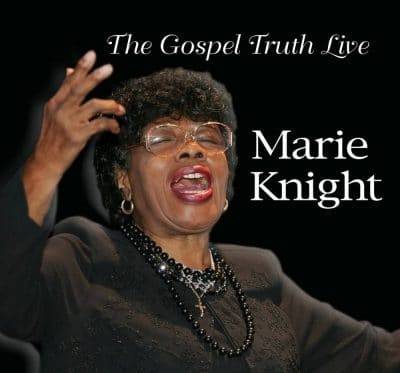 Marie Knight
The Gospel Truth Live
MC Records
"Madame Marie Knight was born Marie Roach on June 1st, 1920 in Sanford, Fl. but she was raised in Newark, N.J." Knight rose to fame by recording an arrangement of "Didn't It Rain" with Sister Rosetta Thorpe in the late 1940's. After recording with Tharpe, Knight spent nearly two decades recording R&B. In the early 1990's Knight abandoned her secular music career to work as pastor at the Gates of Prayer Church in Harlem.
This live performance was recorded October 19th 2007 on a rainy day at The Church Street Center in North Adams, Ma. Knight died on August 30, 2009. The album's release coincides with Sister Rosetta Tharpe's induction into the prestigious Rock and Roll Hall of Fame. This album is produced by Mark Carpentieri of M.C. Records who also produced the 2003 album "Shout, Sister, Shout! : A Tribute to Sister Rosetta Tharpe".
At the time of this recording Knight was "one of the last living artists from the Golden Age of Gospel (1940 – 1960)". All songs during the performance were arranged by Knight and her musical director pianist Dave Keyes who also sings the background vocals. In 2007 Knight recorded the album "Let Us Get Together: A Tribute To Rev. Gary Davis" also on M.C. Records. "Davis was a blind, Great Depression-era guitar player who has influenced generations of roots artists". Six of the twenty tracks included in this live performance were written by Rev. Gary Davis including "12 Gates To The City" and "I'll Fly Away". Written by Tharpe is "Beams of Heaven" and "Up Above My Head". Also reprised is "Didn't It Rain" the 1940's song that started it all. Keyes takes the vocal on "Closer Walk With Thee".
Knight and Keyes make joyous music together. Check out this recording as it solidifies the legacy left by Knight.
Richard Ludmerer
[amazon_link asins='B079FV8VGH,B000S9AGNO,B000P6R8FE,B000253R4O,B0000013XP,B0001D8OYK,B076667B42,B0000A1HSQ,B00GSNGUUW' template='ProductCarousel' store='maasc-20′ marketplace='US' link_id='09669ffb-3d92-11e8-a437-1bfddf0f5970′]