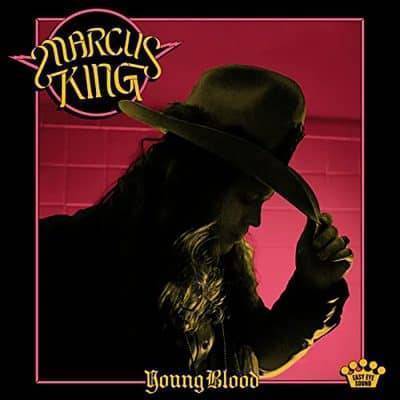 Marcus King
Youngblood
American Records/Republic
We don't hear too many of these kinds of rock records anymore. In fact, there are probably better writers on these pages than this one to cover it. But, given Marcus King's previous forays into blues and his collaborations with Dan Auerbach are compelling factors in giving this, Youngblood, a go. King, the young South Carolinian, is on a ridiculously steep trajectory after first hitting the scene in 2015. In a marked departure from the 2020 soul and rootsy Auerbach produced El Dorado, here the two set out to make a flat-out rock record of the power trio variety, one that's geared for a large arena sound. Taking cues from Hendrix, Grand Funk Railroad, Robin Trower, ZZ Top and others, this one lets loose both sonically and lyrically. King's co-conspirators are bassist Nick Movshon and drummer Chris St. Hilarie.
The album also draws influences from King's favorite film such as Goodfellas and Raging Bull. It all seems to be about big proportions as stated here, "I always try to make a record you can clean the house to or demolish a house to…With this one, I hope you feel like you can fucking bulldoze a house –or bulldoze your ex's house. I want you to feel like you're ready to take the day." As for the lyrical part, king cites addictions, breakups and addictions because of breakups and a general overindulgence in too many things that he was eager to put in the rearview mirror.
He gets to the visceral aspect of a breakup right away with "It's Too Late" with the searing commentary "I don't have anything bad to say about you, but I don't have anything good to say about you either" as his fierce guitar echoes the distain in equal measure. "Lie, Lie, Lie" covers similar topical turf. Auerbach and Andy Gabbard, both of whom play guitar on some tracks and provide background vocals on most, are often co-writers as is Angelo and on one track, Desmond Child from Aerosmith on the blistering, rock steady "Blood on the Tracks," wherein Auerbach's Mellotron adds a new color. Don't go looking for any ballads. They are purposely absent.
The mid- tempo "Rescue Me" and the chugging boogie "Pain" rather obviously points to escaping his many demons while he's reached the breaking point in the fuzzed-up shuffle "Good and Gone," with an especially strong, convicted vocal. The single already getting massive airplay is "Hard Working Man," like the others here, the accent on the song rather than extended guitar shredding. In fact, despite its unabashedly rock platform, this is not the "guitar hero" record some might expect. King unleashes plenty of combustible solos, but they are economical, coming in the lyrical breaks.
"Aim High" is the exception. It's the longest track, slightly over five minutes, built on a heavy classic power trio riff that for this writer evokes Hendrix. "Dark Cloud" rollicks along forcefully as does "Whisper." We finally get some calmer, well crafted blues in the closer, "Blues Worse Than I Ever Had," as King processes the loss of family members and chronicles his struggles in coping. This one also has one of his better raging guitar breaks.
Turn this up and rattle your neighbors' walls. The bulldozer is standing by.
Help Support Making a Scene
Your Support helps us pay for our server and allows us to continue to bring you the best coverage for the Indie Artists and the fans that Love them!
Make a one-time donation
Make a monthly donation
Make a yearly donation
Choose an amount
Or enter a custom amount
$
---
Your contribution is appreciated.
Your contribution is appreciated.
Your contribution is appreciated.
Donate
Donate monthly
Donate yearly
You can donate directly through Paypal!
Subscribe to Our Newsletter