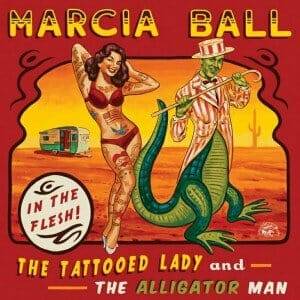 Marcia Ball
The Tattooed Lady and The Alligator Man
Alligator Records
Marcia Ball is a Texas and Louisiana roots music icon. This new album is her fifth for Alligator Records and seventeenth album overall. Ball has been nominated for 42 Blues Music Awards and has won nine times. She has been "Piano Player of The Year" five times; "Contemporary Female Artist of The Year" twice, and won "Album of the Year" in 2002 for "Presumed Innocent" and again in 2004 for "So Many Rivers". Four of her Alligator recordings have also received Grammy award nominations including 2011's "Roadside Attractions".
Ball has once again surrounded herself with a winning team. Her producer Tom Hambridge also produced Buddy Guy's "Living Proof". The title song from that album was co-written by Hambridge and it won him a Blues Music Award.
Ball's band includes bassist Don Bennett who has been with Ball since 1985 when she recorded her second album "Hot Tamale Baby" on Rounder Records. The remaining band members are drummer Damien Llanes; saxophonist Thad Scott; and guitarist Mighty Mike Schermer, who has previously worked with Angela Strehli and Elvin Bishop.
Ball has authored or co-authored all of the songs except one. Ball and Schermer co-wrote both "Human Kindness" and "The Squeeze is On". On the former the background singers include Shelley King, Carolyn Wonderland, and Amy Helm. On the later the Grammy winning Terrance Simien guests on accordion, while the washboard is played by Van Mouton.
Ball covers Hank Ballard's "She's The One" but changes it to "He's The One". Baritone saxophonist Mark "Kaz" Kazanoff joins Scott on this and on three other songs. On the title track and on two more additional tracks they are joined by Jimmy Shortell, trumpet; and Randy Zimmerman, trombone. The horns are wonderfully arranged by Scott and these are my favorites. Ball's piano solo on "Like There's No Tomorrow" reminds me of Professor Longhair. Delbert McClinton plays harmonica on "Can't Blame Nobody But Myself". Red Young guests on the B-3 on "Get You a Woman" and again on "Hot Springs".
Ball's clear vocals and upbeat piano rhythms combine to create a New Orleans party atmosphere. This recording should be another award winner.
Richard Ludmerer