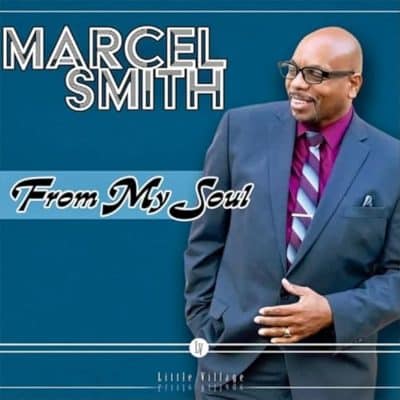 Marcel Smith
From My Soul
Little Village
Singer-songwriter Marcel Smith's From My Soul follows up his Little Village release Everybody Needs Love, covered in 2020 by Richard Ludmerer on these pages. His review has considerable biographical information, so we'll forge ahead with the essence of what's at hand this time out. First, Smith co-wrote five of these eleven tunes (notwithstanding the Bonus track of the Bee Gees cover, "How Can you Mend a Broken Heart.') Familiar strains of Sam Cooke, Little Richard, O.V. Wright, Jimmy Liggins, Tyrone Davis, Willie Nelson, and Ben E. King are heard in the covers which range from vintage soul and R&B to gospel. The usual Little Village/Greaseland suspects are aboard – producer, engineer, mixer, mastering, and guitarist Kid Anderson, keyboardist Jim Pugh, harmonicist Rick Estrin, drummer Derrick "D'Mar" Martin, and label stalwarts Sons of Soul Revivers on four tracks. Other contributors are Endre Tarczy (bass),  Jon Otis (percussion), Jerry Jemmott (bass on the bonus track), the horn section of Mike Rinta (trombone), Aaron Lington (saxophone),and John Worley (trumpet); Don Dally (strings), Tony Lufrano (organ on "Nothing Left to Burn")), Eric Spaulding (sax solo on "If You Miss Me'), and Lisa Leuschner Andersen (backgrounds on two tracks). Johnny Rawls even sings with Smith on two of these.  This album is as good a mix of blues, soul, R&B, and gospel to come along in recent years, the kind of stuff we only seem to find on Catfood Records (Rawls' label) and Little Village who brings the likes of Smith, Sonny Green, and Wee Willie Walker.
The first three tracks are Smith co-writes, beginning with "I'm Coming Home to You," uplifting soul with the full aggregation of horns and Sons of the Soul Survivors. "If You Miss Me' is a comfy soul ballad in the vein of Sam Cooke imbued with Spaulding's lyrical tenor solo, while the string bathed "What Can We Do," is an urgent plea to save Mother Earth with the Sons of the Soul Survivors returning to enhance that 'power of love' that Smith sings so beautifully about.  These three songs could hardly be more different in terms of instrumental treatment, a nod to Smith's growing skill as a songwriter, lauded to no end by Andersen in the liner notes.  Then the 'la-da-la-da" and stomping beat of Little Richard's "Freedom Blues" finds Smith singing fiercely and with a rougher edge, and reaching into falsetto at times as Estrin blows a mean harp solo; some blues roaring unexpectedly from the previous three tracks, except for the presence again of the Sons.
Smith returns to the string accompaniment for a gorgeous rendition of Willie Nelson's "Wake Me When It's Over," punctuated by a tasty vibraphone solo. Old school, horn slathered R&B is at the core of Jimmy Liggins' "Drunk" with a gutsy trombone solo from Mike Rinta lighting up the dance floor. "To Be True" owes to Pugh and Richard Cousins, one they wrote for Robert Cray that appeared on his album This Time. The fourth of Smith originals, "Nothing Left to Burn" follows, another soul stirrer, with an organ solo from Tony Lufrano and backing from the horns. These set the stage for the two with Johnny Rawls, the ballad "There Goes My Used to Be," from O.V. Wright (Rawls was Wright's musical director) and the big hit from Tyrone Davis, one of the all-time best soul songs, "Turn Back the Hands Of Time" replete with the Sons on the choruses.
Smith's last original is another Sam Cooke-like ballad, "My Heart Told A Lie," enriched by Lisa L. Andersen's harmonies and Rinta's stellar horn arrangement. "I Don't Want to Take a Chance" was written by iconic soul writer George Jackson and dates to the mid-sixties, and first recorded by Wee Willie Walker around that same time. The bonus track from the Bee Gees was recorded live at Greaseland in October of 2021 and provides a brief audio of Smith in a preamble of the song before he proceeds to regale the audience, this time in his rough-edged style. Yes, he can go from smooth crooner to the more rugged style seamlessly.
This is Soul Music in 2023, sounding every bit as good as it has for the past sixty plus years. It takes a special breed of singer to deliver this music convincingly.  Marcel Smith is that and then some.
Help Support Making a Scene
Your Support helps us pay for our server and allows us to continue to bring you the best coverage for the Indie Artists and the fans that Love them!
Make a one-time donation
Make a monthly donation
Make a yearly donation
Choose an amount
Or enter a custom amount
$
---
Your contribution is appreciated.
Your contribution is appreciated.
Your contribution is appreciated.
Donate
Donate monthly
Donate yearly
You can donate directly through Paypal!
Subscribe to Our Newsletter