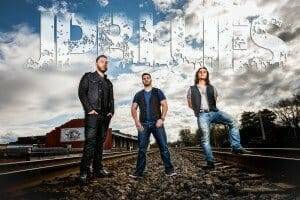 It was a night to remember at Darwin's for the IBC Send-Off Party, a night of friends, fun, lots of raffle prizes, and fabulous music from not only the three marvelous groups going to Memphis but an stunning array of some of the best local musicians for the jam.
First on the bill musically was the Youth group, GHP, These young men perform with the confidence and stage presence you would expect from a much older group, not students still in high school. The group includes sax and trumpet as well as keyboards, guitar, bass and drums so you get a bright mix of jazz and blues that is just delightful. It warms the heart to see such talent carrying the blues into the future, and what a great chance these young men have to go to Memphis and perform at the IBC!
Next, Blind Cadillac took the stage. This duo from Carrollton will represent the Solo/Duo category and they are such an engaging pair! Jeremy Neese is the singer and David Pippin, who is very popular in the Atlanta area, is the guitar player. They make a perfect combination and they charmed the crowd at Darwin's as they will the crowd in Memphis.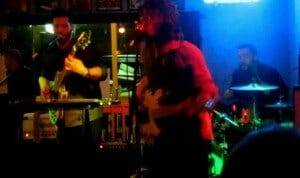 Then it was time for the JP Blues Band. This reviewer has never heard a better blues-rock performer than JP Blues, and with this band he has found the perfect players to complete the musical package. Their skill and JP's personality as well as that of bass player Tony Hossri make them one of the best live acts I have ever seen and the crowd at Darwin's was just blown away, including the people sitting next to us who had never heard of the group before. They are going to be tough to beat in Memphis and I expect to hear great things from them there.
After the JP Blues Band finished their set and some Raffle prizes were given away, including a beautiful Epiphone guitar, (JP Blues is now endorsed by Epiphone who donated the guitar),) original artwork by JP Blues, which we were lucky enough to win, and more, there was a jam that was so good it was almost beyond belief. The community and the musicians were really united to support our IBC groups and the talent that hit the stage was incredible. My leg was hurting badly at midnight and I wanted to leave, but I could not tear myself away as one after another of the musicians we love joined the jam. First off was Truett Lollis and seeing him jam with JP was amazing. Both of these young men were guitar prodigies and they make a spectaculars pair. Then they were joined by Josh, the guitar player from GHP, and Jacob Holliday, my favorite bass player, and Lola, the enormously popular Atlanta ssingerand keyboard player usually found at Northside Tavern. The crowd went absolutely wild after her rendition of "Nutbush City Limits," chanting her name as she left the stage.
At that point, we had to leave. I don't know who showed up or what happened next, but I know it was spectacular and unforgettable. It was a night of nights and I will always remember it. Credit goes to Darwin's for being such excellent hosts and such a great cluba, JP Blues and Richard L'Hommedeau, The Atlanta Blues Society and everyone else involved in organizing and orchestrating the event, the bands for their stellar performances, and everyone who attended the concert for the pure joy they generated with their love and appreciation of the bands and the music!
Takesi Akamatsu