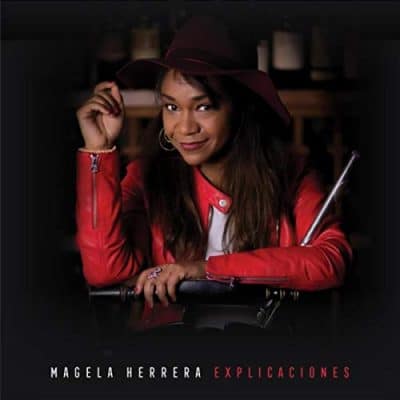 Magela Herrera
Explicaciones
Brontosaurus
Magela Herrera is a Cuban-born, Miami-based vocalist, composer and flute virtuoso making her debut as a bandleader with Explicaciones. Not since the days of those classic CTI Hubert Laws albums and those Atlantic LPs from Herbie Mann, has this writer heard such an expressive flutist. Yes, we could add Charles Lloyd'a alto flute to that list too. Beyond the flute though, Herrera is a sensual, vibrant vocalist and composer with a solid beginning and promising future. She leads a small ensemble of some of Miami's best players through originals, jazz standards, Latin and Cuban favorites. Her unique background is the melding of several influences and experiences.
This experience includes Latin Jazz, Euro jazz, classic Afro-Cuban traditions, jazz fusion and electronica. She was a member of Mezcla – one of Cuba's leading jazz and fusion groups from 2004 through 2011. In 2010 Herrera was nominated for Best Solo Flute from the New York based magazine Jazz Corner for the tune "Quien tiene el ritmo," from the Mezcla album I'll See You in Cuba, which was also nominated for Best Album.
Herrera, though, has an exploratory spirit that pushed her beyond her Cuban roots. She lived in Norway for several years , learning about jazz and improvisation while earning Bachelor's and Master's Degrees in Jazz Performance from the Norwegian Academy of Music. This was a major change from her earlier days studying classical music at the Conservatory of Music in Havana where she earned her first Bachelor's. It was in Norway that Herrera began to overcome her shy nature, build confidence and explore music freely.
Another major factor was her relocation to Miami and its thriving music scene which includes jazz, R&B/funk, and electronica. In Miami Herrera has played everything from flamenco and Latin music to the forms alluded to above. She has played in ensembles, led her own quartet and quintet, and represents some of those players on this session – pianist Tal Cohen, guitarist Greg Diamond, drummer David Chiverton, and bassists Nestor Del Prado and Dion Keith Kerr.
Her name, upbringing, and album title suggest Latin jazz but that's only one element of this diverse set. In one sense, these eight songs are the musical equivalent of the travelogue described previously. The opener "Two Sidewalks" is named for the idea of two worlds colliding (Norwegian jazz with Miami's funky rhythms). It's a jam that immediately reveals her flute prowess and the improvisational piano of Cohen mostly. The calm Cuban classic "Que Te Pedi" is one that Herrera first heard in early childhood, arranging it here for an elegant jazz trio to feature both dreamy, drawn-out flute lines and up-tempo soaring soloing. Her ballad "Principios" is about new beginnings, reflecting on her life in Norway as she dialogues on flute with poignant flugelhornist Jean Caze.
The title track is her first vocal, preceded by a tantalizing percussion-flute interplay before we hear her sing beautifully in Spanish. She comments on the song, "Some of the things that happen in life we can't understand why, and the only solution is to put words into it., make it a song, and sing it loud and clear. This is a love song." Herrera is an especially proud of high flying "Ahora," the first complete tune she ever composed while in Norway. She uniquely interprets the classic Latin ballad "Besame Mucho" that has some of her favorite Cuban rhythms.
Her seductive ballad "Danzon Para Papa" is a tribute to her father who urged her to play more Cuban music when she was performing in Norway. She finishes with a standard from the Great American Songbook, "My One and Only Love" sung in English with different phrasing and at a livelier tempo than most render it. The gentler part of the tune features Diamond subtle guitar tones before Cohen and Chiverton rev up the tempo to support one of her most agile, playful flute solos.
Reflecting back on her multi-faceted experiences, Herrera says, "my parents exposed me to all kinds of music and my mom told me that as a baby, I would wake up from my naps singing – which is why they enrolled me in music school. I can't recall just why I started playing the flute, but its sound and physical shape captured my attention. I love it because it's so close to the sound of the human voice, and back when I was too shy to sing, it was a way for me to bring out what was inside of me through air and my mouth. When I improvise, I feel that I am most connected to my inner voice."
Beyond the animated flute, improvisation and excellent support, there's an inexplicably (pardon the term) soulful and emotional quality to Herrera's music that's both provocative and joyous.
[amazon_link asins='B07K1N8TYY,B07K1ZVNYV,B07K1SMXX7,B07K1N4LCB,B07K1MN26C,B07K1M96X3,B07K1KJY4F,B07JZZK8M5,B07JZXKKMB' template='ProductCarousel' store='maasc-20′ marketplace='US' link_id='5380d05e-56f1-462c-9252-5b055e6f0642′]