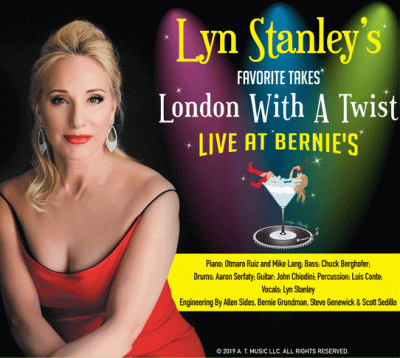 Lyn Stanley
Favorite Takes – London With a Twist- Live at Bernie's
ATM
We introduced you to jazz vocalist Lyn Stanley back in December 2017 with her double CD-set of the Great American Songbook classics., Moonlight Sessions Vol. 1 and Vol 2. You may want to reference that for her amazing back story. In 2018 she released her tribute to Julie London, with London Calling; A Tribute to Julie London and now we have another, her most unique project yet with her seventh album, Favorite Takes – London With a Twist- Live at Bernie's. Although London is in the title, there are only four selections here that are reprised from her tribute album, the others are Songbook and (some surprising) pop and rock songs including Springsteen's "Pink Cadillac" and Chuck Berry's "you Know You Never Can Tell." Lyn says, "I always find something of my own. Julie did pop songs, and if she can segue into pop, why can't I? I'm not pretending to be Julie, I'm honoring her>' Notably, even though London's husband Bobby Troup wrote "Route 66" London never performed it although Stanley kicks off the album with it.
Beginning her career from literally nowhere in her fifties, under the mentorship of legendary jazz pianist Paul T. Smith (Ella Fitzgerald) in 2011, It's not only Stanley's sultry voice that sets her apart from other vocalists in the intensely competitive field of female vocalists; it's her attention to details. She has impeccable taste in selecting songs, almost like jazz's version of Emmylou Harris. Beyond that though, is her knack for planning , whether it's cover art, liner notes, sound quality, arrangements of selection of musicians. On the latter, she consistently plays with the world's best jazz musicians. She's a Do-it-yourselfer in a major way, having sold over 40,000 albums worldwide. She has accumulated a fervent fan base and audiophile following. Her time is now. Stanley was awarded Female Jazz Vocalist of the Year for 2018 by Saul Levine, programmer for KKJZ- FM Los Angeles, the station with the largest jazz audience in the states.
The unique and adventurous nature of this album is perhaps a bigger story than the exquisite music. This is recorded live in the studio as a direct-to-disc album with instantaneous mixing and no editing. This process bypasses magnetic tape, recording directly onto an analog disc. The sound quality is impeccable, as would be the case for Stanley's penchant for audiophile pristine production. The process requires nerves of steel, no flubs allowed. There is no opportunity to "fix' mistakes later. Not many of these are made in the modern era and Stanley has become just one of five singers who have created a direct-to-disc vocal album containing at least three songs and over 12 minutes of music.
Stanley says, "There's a stigma about achieving 'perfection.' It takes the art out of what you're doing if you have to follow what someone else declared to be the rules of engagement," Stanley declares. "You can run with your creativity if you don't have to have perfection. What you hear on London with a Twist is what you'd get on stage for real."
She would have to have world class musicians to pull this off. There is no stopping except for a few precious seconds between songs. The high-stakes can inhibit musicians and make them stick to the tried and true instead of breaking creative ground. However, the band–guitarist John Chiodini, pianists Otmaro Ruiz and Mike Lang, bassist Chuck Berghofer, drummer Aaron Serfaty, and percussionist Luis Conte–"didn't hold back, they played as live as they could," Stanley notes. She points out that she chose to release the takes based on their performances rather than her own: "I picked the ones where I loved what they did." There was a buzz of solidarity in the studio, with the vocalist and the musicians brainstorming and collaborating to develop arrangements on the spot. By the end of the session, the players had devised a new moniker for themselves: "The Jazz Mavericks."
Another challenge is adjusting to the shifting moods of the tunes in the three- to five-second separations between songs. On just one album side, Lyn Stanley's interpretations run the emotional gamut from the easy swing of "Route 66," through rollicking "Pink Cadillac," to the heartfelt "Lover Man" But despite the pressure-cooker situation, Stanley and The Jazz Mavericks shift through all the feelings, including "You Never Can Tell," seemingly effortlessly, delivering a dozen tunes with a relaxed, creative, swinging sound.
As the title of this CD suggests, these are a dozen tunes culled from two days of recording. A limited pressing of 2,000 albums are available (unless they are already gone) for audiophiles. Here are some other pertinent details:
Recorded live at Bernie Grundman's Mastering Studio, Hollywood, California, January 19-20, 2019. Recording and mixing engineer: Allen Sides; assistant engineers: Steve Genewick, Beno May, Scott Sedilla; disc mastering engineer: Bernie Grundman. Formats: Double LP, Super Audio CD
Lyn Stanley is fearless and continues to push the envelope.