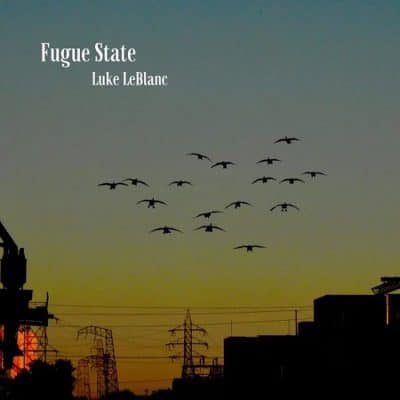 Luke LeBlanc
Fugue State
145 Entertainment
Minneapolis-based singer-songwriter Luke LeBlanc delivers his fourth full-length effort with Fugue State, which is more outwardly focused than LeBlanc's 2022 Only Human. LeBlanc gets elite support from Erik Koskinen, who in addition to playing a slew of instruments, produced, mixed, and engineered the album. Other musicians include Ryan Young (Trampled by Turtles) (fiddle), Eric Heywood (Pretenders, Jayhawks, Jeffrey Foucault) (pedal steel), John Cleve Richardson (keys, vocals), Ein Bekkers (drums), and Casey Frensz (saxophone). So, you may be wondering what's behind the title. It's often defined as a temporary defense against extreme stress. He's trying to help us understand our collective feelings of unease and brokenness which he terms a necessary step before we can reach acceptance and move forward.
In that vein, the opening two songs, "Come Clean" and "Take Your Mind Off It" address this concept directly by putting a microscope on the current world and offering catchy, uplifting melodies and escape oriented lyrics. LeBlanc not only does a solid job of balancing the light and dark within a song, but with his selection of songs as well. The jaunty "Slide on Over" is about comforting the lover of a friend. with tasty guitar and keys. The caressing sound of Heywood's pedal steel introduces and colors the gently picked love ballad "Still." "Now" is rendered similarly, as LeBlanc expresses a son's love and talks about the changes he's witnessed while growing up. It's a great example of the deceptively simple songs on the record which is stock full of singable melodies. Here, all he needs is two chords and haunting banjo from Koskinen who is a wizard at tastefully filling the spaces. The snappy "Anymore" has the kind of folk-rock that marks some of Springsteen's and John Hiatt's work while the weeping ballad "Down Low" is pure country with another fine pedal steel turn from Heywood.
We all often take long walks to clear our heads and/or to find some peace. Hence, LeBlanc has two walking songs that help provide that kind of escapism. "Walking Days" has the requisite snappy pace with Heywood's steel providing the classic country hue. The lines "everybody's walking with nothing to say" and "we're all living in the walking days" hit home. "When I Walk With You" is another of his endearing love songs, imbued this time with saxophone and organ in addition to the pedal steel, yet another example of Koskinen's instrumental flourishes. LeBlanc sounds so authentic and at ease singing, "a touch as light as a feather will push us through/When I walk/run/die with you."
The "fugue state" may best be expressed in the fingerpicked intimate "Soothes Me" while the peppy "Long Way to Go" uses the analogy of one man's journey as a metaphor for society at large. LeBlanc has plenty to say but he is far more subtle than direct, never preachy. His honest writing, natural gift for melody, backing musicianship, and Koskinen's spot-on production values make for a winning combination.
Help Support Making a Scene
Your Support helps us pay for our server and allows us to continue to bring you the best coverage for the Indie Artists and the fans that Love them!
Make a one-time donation
Make a monthly donation
Make a yearly donation
Choose an amount
Or enter a custom amount
$
---
Your contribution is appreciated.
Your contribution is appreciated.
Your contribution is appreciated.
Donate
Donate monthly
Donate yearly
You can donate directly through Paypal!
Subscribe to Our Newsletter