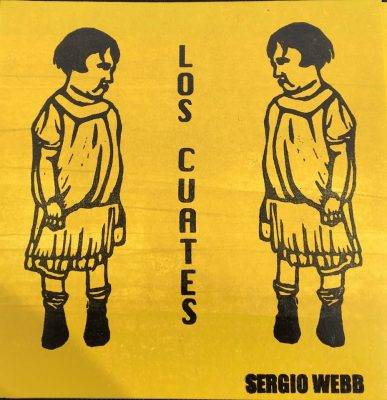 Los Cuates – the latest release by singer-songwriter sometimes guitar slinger Sergio Webb paints the landscape of the American West. These are songs written from the road. Whether you're traveling through this landscape on horseback or car listening to Los Cuates will transport you to a place somewhere on the road that's as comfortable as a well worn-pair of boots.
These are songs about wide open plains and missing love ones. Throughout is unbelievable guitar, mandolin, banjo, and accordion melodies that flow like the rivers that run through this country. Sergio Webb is a national character with his unmistakable huge sombrero-like cowboy hat, braided beard, cowboy boots and embroidered shirts. One of the nicest people in the room, Sergio Webb is the image of poncho and is always the coolest guy on stage.
Sergio has played with the best and for this recording wrangled from some of America's most fierce pen welders. The songs culled on Los Cuates are predominantly interpretations. Chosen for a reason, these songs tell a story. It's a good one.
"Home Nights", is a song by Anthony Crawford, written for his daughter about having to leave her behind as he went on the road.
"I Am A Vagabond" written by Lee Clayton is a rambling banjo song about living by your wits, of living the life you love and loving the life you live.
"Slow Night" is a song by Pinto Bennett. This is a song for when the "go" of the road stands still and your life finally catches up.
"On My Way Back Home" penned by Joe Byron Bidewell is a song of yearning for where the car finally comes to rest at the end of the tour.
Sergio Webb co-wrote "Johnson City Blues" with John Hadley and David Olney and is a Carolina Bluegrass standard complete with banjo, flatpicking, and slap bass. The blues felt from playing night after night on the road
Where "The Long Way", a song by Victoria Stagi, chronicles the American landscapes evolution, "Mankind", written by Richard Dobson, chronicles how man raped the land at will.
I come from a line of fools
turned loose in a paradise
and tortured the golden rule….
And from the train cars
we shot the Buffalo
starved out the Indians
and damned up the rivers flow.
Sergio's "Clarendon" closes the album and paints a picture of the town just South of famed Route 66 on the Texas panhandle. A place where Cactus Jack takes his coffee black and where being a stranger is an attraction to the place. Where you sit patiently by the door listening to the radio play Jimmy Dale Gilmore.
As expected from two of nashville's sought after musicians, the perfect musical accompaniment wraps these songs. Produced by Dave Coleman and Sergio Webb, Los Cuates is held together by some of Nashville's best and brightest. Sergio provides vocals, acoustic 12-string, nylon string, and flatwound guitars. Fran Breen provides drums and percussion. Parker Hawkins plays electric, fretless, upright bass. Dave Coleman added backing vocals, acoustic baritone guitars, piano and xylophone. Richard Bailey plays banjo, and Bruce Baxter added accordion.
Los Cuates evokes Neil Young's "Harvest". These are songs that will become ingrained like the sands blowing across the prairie. This album will inspire your next road trip. Oh the places you'll go.
[amazon_link asins='B00BEYMLB2,B0018BA5L4,B003217TGM,B00X1KE2TQ,B013Q6YGC2,B006R0E8V4,B01K8RKT7I,B013TZ9GPM' template='ProductCarousel' store='maasc-20′ marketplace='US' link_id='ca2f07b3-951d-11e8-9528-552d7bc996c3′]