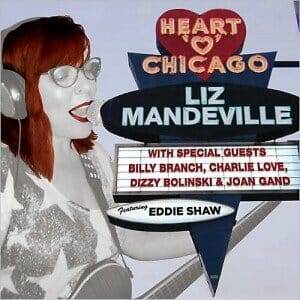 Liz Mandeville
Heart 'O' Chicago
Blue Kitty Music
This is Liz Mandeville's sixth album and second on her own Blue Kitty label. Mandeville's first four albums were on Earwig Records including 2008's "Red Top". Her last recording was 2012's "Clarksdale".
Mandeville was bitten by the Blues bug when she moved from Wisconsin to Chicago in 1979. She worked with Willie Kent and Maurice John Vaughn among others but has fronted her own bands since 1983. Mandeville's states her biggest influences are Koko Taylor and Luther Allison.
On this new album Mandeville pays homage to the city of Chicago. Her heart is in Chicago. The band includes Mandeville, guitar and vocals; Minoru Maruyama, guitar; Darryl Wright, bass; Jeremiah Thomas, drums; Joan Gand, piano; and the horn section of Wade Baker, trumpet; Eric Campbell, trombone; and Oz Landesberg, sax.
Mandeville has received nominations at the Chicago Music Awards and has won awards for songwriting. She only records her own originals. Blues Hall of Famer Eddie Shaw sits in on sax with this fabulous horn section. Shaw solos on both "Cloud of Love" and on the modern "Quit Me on a Voice Mail". The later is one of my favorites; my others include "Silver Lining" and "Tic Tok".
Mandeville's vocal intonations can be best heard on "These Blues". Vocalist Charlie Love joins her for duets on "Don't Doubt My Love" and on "Smart Women Making Foolish Man Choices Again". Guitarist Maruyama and keyboardist Gand are featured throughout the recording. Mandeville takes a nice guitar solo on "Everybody wants to know Why Would a Woman Sing the Blues". Billy Branch plays harp on "So Called Best Friend" and on "Party at the End of Time". Dizzy Bolinski replaces Branch on "Life is like a Wave you gotta ride" which closes out this session.
This is a great new album from Mandeville who seemingly deserves a lot more recognition than she gets. I dig her a lot.
Richard Ludmerer