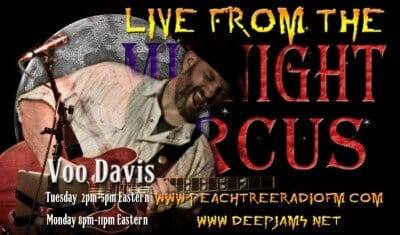 LIVE from the Midnight Circus 5/19/2015 With Voo Davis! by Richard Lhommedieu on Mixcloud
Here it is! The #1 and ORIGINAL INDIE BLUES radio show on the internet! The only show dedicated 100% to the Touring INDIE BLUES artists. You are going to hear the best in NEW BLUES made by artists who "Keeping the Blues Alive" is not a slogan on a T-shirt, it is what they do!
WE Start things off with a Tribute to the late B.B.King .. Then we have music from Brian Ashley Jones, John Cocuzzi, Chris Beard Band, Eddie Cotton, Jr., Owen Campbell, Donald Ray Johnson, Jp Soars,JPBLUES, Then we have an EXCLUSIVE Interview with Voo Davis About his new CD, Touring and the Future of the Blues!! .. After the interview we will hear a 2 pack from Voo's new CD then we continue with Sovereign Dame,Michael Williams Band, More John Pagano (JPBLUES), Bobby Murray, Delta Moon, Jack the Radio, Geoff Achison, Ghost Town Blues Band, Betty Fox Band, Tas Cru, Jarekus Singleton, Tad Robinson and we end with Phil Grande's FULL MOON BLUES!! ..