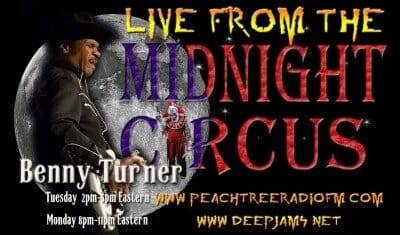 LIVE from the Midnight Circus 5/18/2015 by Richard Lhommedieu on Mixcloud
Here it is! The #1 and ORIGINAL INDIE BLUES radio show on the internet! The only show dedicated 100% to the Touring INDIE BLUES artists. You are going to hear the best in NEW BLUES made by artists who "Keeping the Blues Alive" is not a slogan on a T-shirt, it is what they do!
We start off with tribute to BB King .. and continue with Chris Beard Band, John Cocuzzi, JPBLUES, Crystal Shawanda, Betty Fox, Geoff Achison and then we have our EXCLUSIVE interview with non other than Benny Turner .. Blues legend in his own right .. and brother to the legendary Blues artist Freddie King! .. After the interview we will have a two pack from Benny .. then we continue with Eddie Cotton, Jr., Sovereign Dame, Samantha Fish, Tad Robinson, Larry Griffith Band, Tas Cru, Jack the Radio, Owen Campbell, JPBLUES, Donald Ray Johnson, Eliza Neals,Jarekus Singleton, Jp Soars, The Sonny Moorman Group, Delta Moon and we end with Phil Grande's FULL MOON BLUES !!