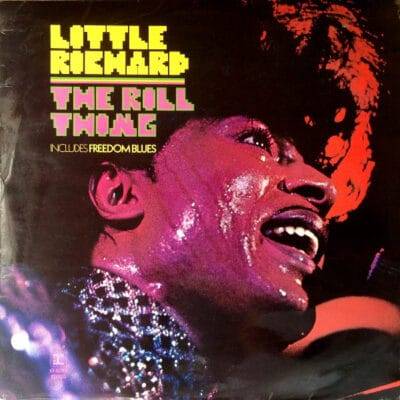 Little Richard
The Rill Thing
Omnivore Recordings
Little Richard, born Richard Wayne Penniman in Macon Georgia, is one of the architects of Rock n' Roll. He recorded his debut album "Here's Little Richard" on Specialty Records in 1957. Nine of the twelve songs hit the Billboard Hot 100 including mega-hits "Tutti Frutti", "Long Tall Sally", and "Jenny, Jenny". During his career he abandoned rock n' roll for born again Christianity but made a successful comeback. He made a total of nineteen studio albums before his passing in May of 2020. His music influenced musicians across several genres for seven decades
Omnivore Recordings is a wonderful re-issue label that recently reissued four albums from The Staples Singers. Now they pay tribute to Little Richard, releasing two of his albums in September, and two more in October. The reissues include three comeback albums from Reprise Records: "The Rill Thing" released in August 1970; "King of Rock n' Roll" from 1971, and 1972's "Second Coming". Also reissued is "Lifetime Friend" released in 1986 on Warner Brothers Records. This review will concentrate on the first of the three Reprise re-issues.
"The Rill Thing" was recorded at Rick Hall's Fame Recording Studios in Muscle Shoals, Alabama.  The piano pounding rocker had established himself as a soul singer with his 1965 ballad "I Don't Know What You Got But It's Got Me". Prior to choosing Fame the studio had already produced hits for Arthur Alexander, Joe Tex, Wilson Pickett, Aretha Franklin, Etta James and Clarence Carter. The studio band included guitarists Travis Wommack and Junior Lowe, pianist Clayton Ivey, bassist Jesse Royce, and drummer Freeman Brown.
Two of the songs were co-written by Little Richard with his old friend Eskew Reeder, credited as Esquerita. "Freedom Blues" with Harvey Thompson's King Curtis styled sax solo and The Muscle Shoals Horns, and the "B" side "Dew Drop Inn" paying homage to the legendary New Orleans nightspot, becoming his biggest hit single since the early Specialty days.
"Greenwood, Mississippi", written by guitarists Wommack and Lowe, became the second single released from the album. Covers included the Beatles "I Saw Her Standing There" which became the "B" side; and "Lovesick Blues" made famous by Hank Williams. Other highlights included the originals "Two-Time Loser" showcasing the horns; "Somebody Saw You" with Little Richard's falsetto, "Spreadin' Natta What's The Matter" co-written with Maybelle Jackson, and the title track. Bonus tracks include the singles "Shake A Hand (If You Can)", the Beatles "I Saw Her Standing There", and two radio "spots".
Although "The Rill Thing" was the most successful of the Reprise comeback albums, these four re-issues from the Little Richard catalogue are a welcome addition to any collection.
Richard Ludmerer