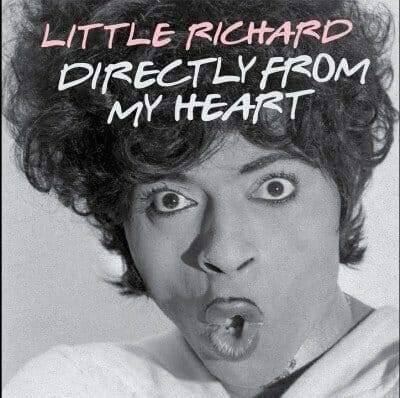 Little Richard "Directly from My Heart: The Best of the Specialty & Vee-Jay Years" www.ConcordMusicGroup.com
Little Richard was and will always be known as one of the originators of rock & roll. Richard successfully merged gospel with New Orleans R&B pounding it out at the piano with his signature wailing vocals. Numerous other R&B greats of the early '50s had been moving in parallel directions, but few equaled his raw energy. He was only a hit-maker for a short span, but his influence on both the soul and the British Invasion of the 1960s was enormous. His early hits remain essential classics of rock and roll.
In 1956 and 1957, Richard fired off a series of classic hits: "Long Tall Sally," "Slippin' and "Slidin'," "Jenny, Jenny," "Keep a Knockin'," "Good Golly, Miss Molly," "The Girl Can't Help It," and others. Richard's matchless mania was key, he also owed a lot of his success to the gutsy playing from many of recording engineer Cosimo Matassa's regular New Orleans session players: Lee Allen (tenor sax), Alvin Tyler (baritone sax), and especially Earl Palmer (drummer) who often accompanied the singer at both New Orleans and Los Angeles sessions. The Rolling Stones and the Beatles took a lot of inspiration from Richard, and when in 1964 the Beatles cut a cover of "Long Tall Sally" prompting Richard's to make a comeback reconnecting with Specialty again. This Concord label 2015 triple-disc box "Directly from My Heart: The Best of the Specialty & Vee-Jay Years" uniquely adds sessions he recorded after returning to Specialty, along with his 1964 and 1965 sides for Vee-Jay Records, where you will also hear touches of Richard's blues and gospel origins. Plus there are the '60s tunes where Richard sits-back and becomes profoundly soulful covering "Only You," Blueberry Hill," and even covered Hank Williams' "Why Don't You Love Me (Like You Used to Do." Though Richard's meteoric rise came at Specialty Records, it's enlightening and important to discern beyond Richard's well-known classic hits. This three CD box-set goes deep and displays how immense Little Richard really was. In summary Richard's remains significant to this very day, and he will likely stay essential for decades ahead. Enjoy the good tunes contained here; these tracks will keep you rocking on and on.
For 16 years Bob Putignano has been pivotal at WFDU with his Sounds of Blue radio show (Wed. & Fri. 9am-1pm) www.SoundsofBlue.com – 2015's most pledged to ($21,000+) radio program at https://wfdu.fm Previously a contributing editor at Blues Revue, Blueswax, and Goldmine magazines, currently the Music Editor for the Yonkers Tribune www.YonkersTribune.com – www.MakingAScene.org & www.wfdu.fm/Whats-Happening/Bob's Music Reviews/bobs music reviews/ Bob was the 2003 recipient of the "Keeping the Blues Alive" award (given by the Blues Foundation in Memphis) for his achievements in radio broadcasting. Putignano can be contacted at: bob8003@yahoo.com