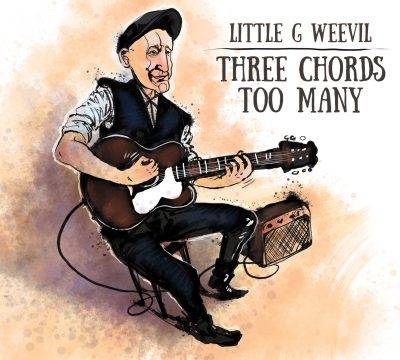 by Rhetta Akamatsu
Little G Weevil has a new album out, Three Chords Too Many, and it is very special, as Weevil's albums always are. It was hard to imagine he could equal Moving and the albums that came before it, but it does.
Sticking to the acoustic, traditional blues he loves, this album gives Weevil a chance to show off both his songwriting skills and his amazing, authentic blues guitar playing.
Born and raised in Budapest, Hungary, Little G Weevil made his way to Memphis to learn about the blues. He soaked up the music until he could incorporate his own soul into it, and pour out music that was absolutely true to the spirit of those musicians he loved, while still being able to appeal to modern audiences both in America and in Europe.
For this album, the subject matter reflects the concerns of a mature songwriter. "This is grown-up blues," Weevil told me when he played some of the songs at a local club. And it is. While it begins with an acoustic version of a song that first appeared on The Teaser, this is a laid-back acoustic version of "Apple Picker" that emphasizes the sly humor and eases us into the album.
"Dad's Story" tells about a man who has to leave what he knows and travel to an unknown city, where he works day and night. Its not Weevil's story, but his story certainly informs the narrative.
"You're the One" is a perfect rendition of a song written by one of Weevil's favorite artists, Jimmy Rogers. It's a feel-good song and shows off his acoustic style. "Going Back South" could have been performed by an older blues man on the streets of Memphis and it would sound just like this. The same is true for "Put a Dollar In My Hand" which deals with the universal issue of being broke, as does the upbeat "One Little Cup" which features some excellent harmonica. "the Tale of Captain Segal" is a song Weevil wrote for his friend, Ian Segal, a fanciful one in which Segal is depicted as a pirate. The song utilizes a fine country fiddler and is a rollicking number altogether.
Roughly half the songs on this album were recorded in Weevil's hometown of Budapest while he was touring in Europe recently, and he used a number of very talented Hungarian musicians, such as the piano player on "Wealthy Man," who gives this witty number a lot of bounce and style. This story of a woman who really needs a man with money really catches Weevil's wry sense of humor. "Outdated Citizen" is another song about money and the lack of it, but it is most notable for Weevil's fantastic slide guitar. and his exuberant delivery ("Oh, Lord have Mercy!")
Sunshine Blues" is a heartfelt blues lament and "Meet Me In the City" shows up Weevil's guitar mastery. The album then ends with an amusing bonus track where Weevil tells a tale about an event that happened to him and his drummer in Finland one time. Its called "Saving A Marriage" and gives the listener a good peak into Weevil's ability to weave a story.
There are very few musicians in blues today who are as honest, direct and authentic as Little G Weevil. He may have been born in Hungary and reside in Atlanta now but he lives in the blues! Get Three Chords Too Many.and get ready to experience real, raw blues as close to live as you can get on record, even though it is not a live album.