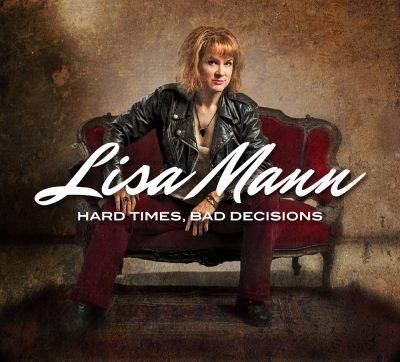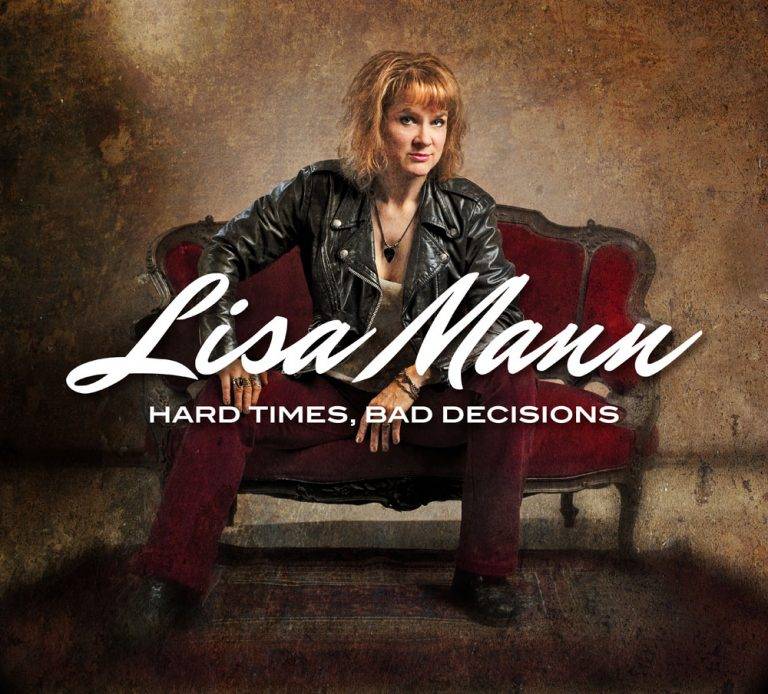 Lisa Mann
Hard Times, Bad Decisions
Lisa Mann Music
Lisa Mann was born in West Virginia. As a child she and her sister were relocated to Portland to escape an abusive father. Originally inspired by rock bands she graduated to the blues at age 19 when she began her professional career. Early influences included Etta James, Koko Taylor, Bonnie Raitt, Little Milton and Paul deLay.
Mann released her first self titled album in 2010. In 2011 she and her "Really Good Band" represented the Cascade Blues Society at the International Blues Challenge in Memphis. In 2012 she released "Satisfied" her well received sophomore effort. 2014 saw Mann release "Move On", a tribute to her mother, and the album reached the Top 20 on the Roots Music Blues Chart. In 2015 Mann won The Blues Blast – Sean Costello Rising Star Award. Mann also won the 2015 Blues Music Award for Best Instrumentalist – Bass in both 2015 and 2016.
This is Mann's fourth album. The core band is Mann, bass and vocals; Jason JT Thomas, guitars; Brian Harris, keyboards; and Michael Ballash, drums. Mann has written eight of the twelve songs included.
The opening track is a catharsis for Mann as she displays the blues of a tough girl. This is her story. "Hard Times, Bad Decisions led me to this cold life, I don't know how I'm gonna make it, I don't know how I'm gonna' make things right". Her eloquent self expression has become her redemption…"All I need is a helping hand". Thomas and Harris take their respective solos.
Mann then enters the realm of soul blues on "Two Halves of One Broken Heart". It's a vocal duet with Andy Stokes and it's thrilling. It's a nod to the vintage soul of the 50's and 60's that has become Mann's inspiration. Guest musicians on this track are Louis Pain, who was a member of The Paul deLay Band, organ; and Renanto Caranto, who solos on saxophone. The song reminds me of Delanie and Bonnie.
"Certain Kinda Man" is demonstrative of Mann's songwriting. Her content is substantial. There are background vocals by Sonny Hess and Rae Gordon that give the tune a "sixties group" sound. Harris solos on the B-3.
"Doghouse …he's livin in the doghouse, that's where he goin' to stay, sleeping out there alone, he ain't gonna get no bone". This song is a lot of fun. Take it from someone who's been there. Thomas adds some nice guitar.
"Ain't Nunna Yo Bizness" is Mann's updated version of "Ain't Nobody's Business" with another great organ solo from Harris and guests Steve Kerin, piano; Chris Mercer, sax, Joe McCarthy, trumpet; and Stan Bock, trombone.
"My Father's House" features Kirk Fletcher of The Mannish Boys on guitar. "You Need a Woman" is a jazzy tune. "Judge a Man Forever" features Ben Rice and Vinny Appice.
Mann's song selection showcases her respect for other songwriters. She covers "I Go Zoom" written and first recorded in 2004 by Mary Kadderly. Jazz guitar great Jerry Hahn sat in on Kadderly's session. This is not an easy song to sing. Again Thomas provides some great guitar before Mann takes a fabulous bass solo.
"I Don't Hurt Anymore" is a country music song written by Don Robertson and Jack Rollins. Hank Snow first sung this in 1954. I believe Snow sang this when I saw him in 1976 at Freddie the German Cowboy's Blue Ribbon Inn in Hillside, NJ. Snow, who played a flat top Martin, was accompanied by just a dobro player. The women all had beehive hairdos! I'm so glad Mann doesn't wear a beehive. Mann's version comes from Dinah Washington.
"Play it All The Way", was written by Jeff Johnson, a tattoo artist, and author of the bestselling book "The Tattoo Machine".
"I Love You All The Time" was written by Jesse Hughes, Joshua Homme and producer Mark Nishita and performed by the Eagles of Death Metal. "The love lost took on a poignant meaning after the band escaped a terrorist attack on November 13th, 2015 that killed 89 of their fans". The songs inclusion benefits the victims of the terror attacks in Paris.
Mann is much more than an award winning bassist. Look for her to win awards in other categories like Contemporary Female Blues Artist or whatever else she decides to embrace. She is somethin' else.
Richard Ludmerer