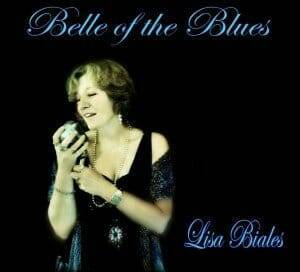 Lisa Biales
Belle of The Blues
Big Song Music
Lisa Biales hails from Ohio where she first honed her skills. In 1991 while still at Ohio University she released her first recording. Her first full length album was 1999's "Music Box" re-issued in 2007.
In 2011 Biales had a small acting role in Francis Ford Coppola's "Twixt". She also starred in a local revival of the 1977 off-Broadway production of "Always…Patsy Cline", singing 27 of Cline's greatest hits.
In 2012 Biales released her 7th album "Just Like Honey" on her own Big Song Music label. It was produced by EG Kight and Paul Hornsby. "Singing in My Soul" was released in 2013. "Belle of The Blues" is Biales ninth recording and second produced by the team of Kight and Hornsby.
For this new album Kight has re-assembled the band used on "Just Like Honey". They are: Tommy Talton, guitar; Bill Stewart, drums; Tom Vickery or Johnny Fountain, bass; and co-producer Paul Hornsby, piano. Guest musicians include Randall Bramblett, Hammond B-3; and Ken Wynn, guitars. Co-producer Kight plays acoustic guitar on two songs, and adds her background harmony on four others.
Kight has written "The Mask" and it is fabulously sung by Biales. Kight has also co-written six other songs. The title track "Belle of The Blues" is now the moniker by which we will forever know Biales. It and the soulful "Sad Sad Sunday", were both co-written with Tom Horner. "Bad Girl" was written by them with the late Ann Rabson. "Graveyard Dead Blues" was written by Kight, Horner and Biales.
Kight co-authored "Trouble with a Capital T" and "Peach Pickin Mama" with Richard Fleming. When Kight and Biales perform together they are calling themselves the "Peach Pickin Mamas". On this recording they perform a duet on Memphis Minnie's "In My Girlish Days" which to me is one the highlights on this truly wonderful recording.
Another favorite of mine is "Bad Things" written by Scott Sanford and Donica Knight. Biales is so good that when this song is over you'll wish you had someone to do some "bad things" to you.
"Baby Won't You Please Come Home" was written by Charles Warfield and Clarence Williams in 1919 and originally recorded by Bessie Smith. "Black and White Blues" is another song on which Biales will "make your socks roll up and down". It is from Dalton Roberts, a Bessie Smith historian, who wrote the song to honor Bessie.
The bands performance is outstanding throughout the recording. Talton's acoustic and slide guitar are especially nice. His dobro work is inspiring.
I can't wait until those "Peach Pickin Mama's" cut a whole album of duets. Until then this is highly recommended listening.
Richard Ludmerer