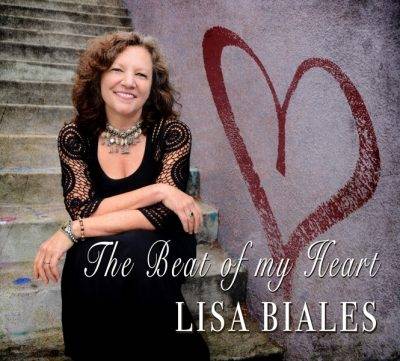 I get excited whenever I see a new Lisa Biales CD in the mail. The Beat of My Heart lives up to every expectation! Biales is one of the strongest performers in contemporary blues and here she also shows her amazing ability with soul and gospel. What a great instrument her voice is, subtle and powerful and so expressive it just draws you in and engulfs you in whatever mood she wants you to feel. She is aided by an ace group of seasoned musicians on many different guitars, drums, piano, trumpet and saxophone, ls. Her background singers are also top-notch Together they recorded for 10 days to give us a recording that will give us pleasure for a long time.
The album has a great story, too. Biales comes from a musical family . In 2015, she found a 78 that had her mother, Alberta on it, singing a song she wrote, "Crying Over You" . Not only did she record the song, but she recorded it with her mother,e from that 1947 recording, doing the first verse and then she takes over. Without the story,it is a lovely lounge ballad, worthy of Peggy Lee or Connie Francis, beautifully enhanced by the fluid piano playing of Jim Pugh.
With the story, it is a unique treasure.
If that song,the seventh cut on the album, has the best back story, that does not mean the other songs are not just as much of a joy!
The first song, "Disgusted," is a swinging number that shows off Lisa's power and her horn section and that great piano. The wailing sax is by Jon Soblett.
Speaking of soul, that is what Biales delivers on the next song, "What A Man." This one takes you right back to the glory days of Stax and Motown and puts that horn section to good use again. It will make you feel good!"I Don't Wanna Hear It" continues in that vein, too, with a great backing chorus echoing Biales' voice on the refrain.
"Be My Husband," a hypnotic song about love and marriage, gets a slightly sinister feel from the timbre of Biales 'voice and Tony Branagel's insistent drum beat. This gives the simple song a whole different level of interest.
"Messin' Around With The Blues" is purely blues and illustrates what a great singer and a great band can do. It takes a confident and powerful singer to let a great drummer, keyboardist ,trumpet player and sax man play strongly and freely and still bring the song back under her control every time, and Biales does that unfailingly in this song.
But get ready and brace yourself because next is the feel-good song and you are about to be clapping and dancing, or if you are in your car,singing at the top of your voice as Biales pours everything she's got into the great gospel song, "Said I Wasn't Gonna Tell Nobody." It doesn't matter what your religion is, this song unleashes pure joy!this is my favorite track.
After "Crying Over You,""Wild Stage Of Life" returns us to the lounge for a sultry ballad in praise of youthful indiscretion. The more serious gospel song, "Don't You Let Nobody Turn You Around," offers words of encouragement and a call for determination to remember where you're going and don't let anybody pull you from your goal.
"Romance in the Dark" is a torch song, with a more restrained accompaniment, followed by he smoothly jazzy "I Should've Known Better" with fabulous piano. Biale's voice and the piano go together so we;;I was having visions of Casablanca. The album ends on another jazzy blues, "Brotherly Love,: a lament about the way things are in the world and a commentary on how they should be.
You are probably going to end up happy and grateful after you listen to this album: happy because of the emotionally satisfying music and grateful to Lisa Biales for sharing her voice and this phenomenal band with us.