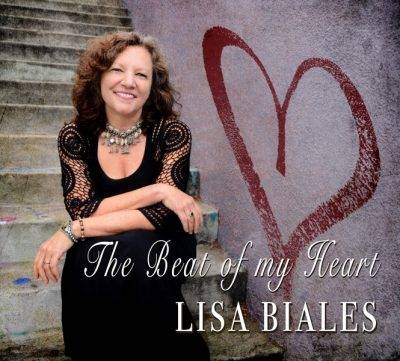 Lisa Biales
The Beat of My Heart
Big Song Music
Lisa Biales hails from Oxford, Ohio. She attended Ohio University in Athens. Her first full length album was released in 1999. Her last album 2013's "Belle of The Blues" was co-produced by EG Kight and Paul Hornsby.
"The Beat of My Heart" is Biales' ninth recording and this time she has enlisted the Grammy award winning producer Tony Braunagel who earned his stripes playing for Bonnie Riatt; Taj Mahal and The Phantom Blues Band; and Robert Cray. Braunagel is also a nine times Blues Music Award nominee in the category of Best Instrumentalist – Drums; having been nominated again this year. Along with Bruanagel comes the other members of The Phantom Blues Band including Johnny Lee Schell, guitar; Larry Fulcher, bass; Darrell Leonard, trumpet; and Joe Sublett, saxophone. Add in Jimmy Pugh, keyboards; Larry Taylor or Chuck Berghofer, upright bass; and some special guests including Lee Thornberg, trumpet; Paul Brown, guitar; and background vocalists Maxayn Lewis, Kudisan Kai, Leslie Smith and Will Wheaton; and you have an ensemble to die for.
The song selection is equally fabulous. Biales opens with "Disgusted" written and released as a single by Mabel Scott in 1950 on King Records out of Cincinnati, Ohio. This opening track features great piano from Pugh; great horns including a fabulous sax solo from Sublett; and a great vocal from Biales as she sings "I work real hard, I stay real cool, I been through college so I ain't nobody's fool".
"What a Man" was written by Dave Crawford and originally recorded by Linda Lyndell in 1968 on the Stax Records subsidiary Volt. It was also a 1993 hit single for Salt-n-Pepa with En Vogue. This is a fabulous version as sung by Biales with some great rhythm guitar from Schell, Pugh on organ, and a great horn arrangement.
"I Don't Wanna Hear It" was written by Allen Toussaint, who at the time was in a legal battle with Stax Records over a song he had written credited to Otis Redding; so he wrote this under his pseudonym Naomi Neville. Featured are Fulcher on bass; Sublett's sax; Pugh on piano and great vocal intonation from Biales.
"Be My Husband" was written and recorded by Nina Simone on her 1965 album "Pastel Blues" on Philips Records. Braunagel opens on drums and percussion, and the horns are evocative as Biales delivers a great rendition.
"Messin' Around with the Blues" was written by Thomas Wright "Fats" Waller and Phil Worde; and originally recorded in 1927. Pugh opens by tickling the ivories; Schell takes the cake with a guitar solo, the horns provide the icing, and Biales is perfection.
"Said I Wasn't Gonna Tell Nobody" was written by Professor Alex Bradford for the Abyssinian Baptist Choir and recorded by John Henry Hammond Jr. of Columbia Records in 1960. Interestingly a secular version credited to writers David Porter and Isaac Hayes was recorded by Sam & Dave in 1966. Biales' version is a great gospel piece with organ from Pugh.
"Biales grew up in a musical family and learned singing from her mother. In 2015, she found a 78 record that was recorded back in 1947", "Crying Over You" was written and sung by her mother Alberta Roberts. This production is magic as her mother sings the first verse and then it's Biales' turn. Featured are Pugh on lounge piano and a trumpet solo from Thornberg. Fantastic!
"Wild Stage of Life" was written by Henry Glover, a black record executive, who worked for King Records. In 2013 he was inducted into The Blues Hall of Fame. Included is some great piano from Pugh, a great guitar solo from Schell and another great horn arrangement. Biales is wonderful.
"Don't let Nobody Drag Your Spirit Down" was written by Eric Bibb and first appeared on his 2005 album "Painting Signs". It also appears on Eric Burdon's 2006 "Soul of a Man" also produced by Braunagel; and has since been recorded by Maria Muldaur, and The Heritage Blues Orchestra. Opening with Braunagel's percussion; featured are Pugh on organ, Schell on guitar, and a great backing vocal from Smith and Wheaton. Once again Biales is outstanding.
"Romance in The Dark" written by Lil Green and William Lee Conley a.k.a. Big Bill Bronzy; was recorded by Green in 1940 and later covered by Dinah Washington and Nina Simone. Featured are Fulcher on bass, Braunagel's brushes, Schell's guitar and Pugh on piano. Biales exhibits perfect pitch on this classic tune.
"I Should Have Known Better" was written by Carrie Newcomer and appears on her 1998 album "My True Name". Biales, Braunagel, Pugh, and Schell excel.
"Brotherly Love" written by Brenda Burns and Gregory Boaz was previously on Maria Muldaur's 1996 "Fanning the Flames" on Telarc Records. Opening with Schell's guitar, he is joined by Pugh on organ. Once again vocalist Biales is just wonderful.
From Blues to Jazz she can do it all. Biales and Braunagel's production are perfect together. Five Stars!
Richard Ludmerer
[amazon_link asins='B01MZYFHLM,B00I7B9MAI,B01N7BDKAQ,B007Y56QP2,B001FZB36Y,B003GGGVMQ,B000R9RBK6,B00454TYOK,B00CBJ7Z9M' template='ProductCarousel' store='maasc-20′ marketplace='US' link_id='4c2047eb-f16a-11e6-a5cc-dde9ca69645a']