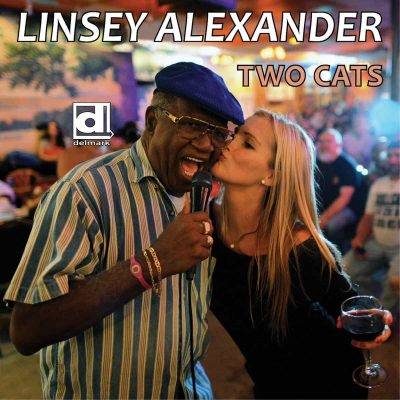 Linsey Alexander
Two Cats
Delmark Records
The seventy four year old Linsey Alexander was born in Mississippi and raised in Memphis. He has been part of Chicago's North Side blues scene for over two decades. He released his debut recording in 2004; "Someone's Cooking in My Kitchen" included the song "Hoochie Man" and that has been his nickname ever since. Alexander has played with everyone from B.B. King to Buddy Guy. In 2012 Alexander released his first Delmark recording called "Been There Done That" and in 2014 followed up with "Come Back Baby". This is Alexander's seventh album overall.
The current band lineup includes Alexander, vocals and guitar; Anthony Palmer or Breezy Rodio, rhythm guitar; Roosevelt Purifoy, who also works with Lurrie Bell, keyboards; EG McDaniel, bass; and either Bryant Parker or James Wilson, drums. The Chicago Horns include Kenny Anderson, trumpet and horn arrangements; Hank Ford, tenor sax; and Norman Palm, trombone. Guesting on harmonica is Paul Hanover. All of the 15 songs have been written or co-written by Alexander. The album is co-produced by Alexander and Steve Wagner.
"I'm Not Your Problem, I'm just your situation" opens with the fabulous Chicago Horns. Halfway through Alexander takes an impressive guitar solo. The horns appear again throughout the album but they are especially nice on "That Ain't Right".
Three songs are reprised from Alexander's 2006 album "My Days Are Long" released on The Hoochie Man Music label. "Where Did You Take Your Clothes Off Last Night" features the harmonica of Paul Hanover who appears again on "How Could You Do Me Like You Done Me" reprised from that same album. The third tune from that album is "Reefer And Blow".
The title track, "Two Cats" features guitarist Breezy Rodio who also fronts his own band. Contained is the line "my woman got two cats one in the front and one in the back". The sexual innuendo gets more explicit as the song progresses.
"Facebook Woman", "when I leave work in the morning she don't even tell me goodbye. When I come home in the evening she don't even say hi, all she tells me is she'll talk to me later 'cause she's still chattin' on line". Purifoy is featured on piano during this funny eight minute narrative.
The topical "Comb Over Blues", also featuring Rodio, includes the lyric "I got the comb over blues…can't believe what's in the news…pussy grabbin', white house staffin'…I got the comb over blues…executive order, Mexican border, we can't eat, everything start to reek…I can't believe what's in the news, I got the comb over blues".
Alexander is a hilarious songwriter, a powerful vocalist and an exciting guitarist. This is a thoroughly enjoyable recording.
Richard Ludmerer
[amazon_link asins='B06XKDHT1D,B00LG7092U,B008JEQCQ0,B000G8P3MQ,B0711CSJS8,B000FTBHU8,B00MEZMBUG,B01K8LOQPU,B008JEQCWE' template='ProductCarousel' store='maasc-20′ marketplace='US' link_id='441e6e77-5075-11e7-b6c4-b98391805b2f']