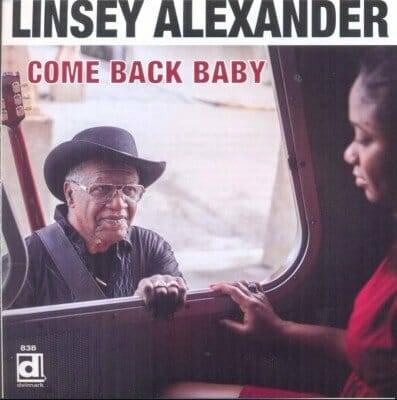 Linsey Alexander
Come Back Baby
Delmark Records
Linsey Alexander was born in Holly Springs, Ms. on July 23rd, 1942. Alexander has lived in both Memphis, and in Chicago where he has been part of the North Side's blues scene for the last two decades. Alexander's debut recording 2004's "Someone's Cookin' in My Kitchen" included a song called "Hoochie Man", and that has become his nickname. He has since played with Buddy Guy, A.C. Reed, Magic Slim, and B.B. King. In 2012 Alexander released his first recording for Delmark, "Been There Done That", and it topped several Best of The Year lists. This is Alexander's follow-up recording and his fifth overall.
Today, The Linsey Alexander Blues Band includes Alexander, vocals and guitar; Breezy Rodio, who also fronts his own bands, rhythm guitar; Roosevelt Purifoy, who has worked with both Carey and Lurrie Bell, keyboards; and the rhythm section of Greg McDaniel, bass; and Pooky Styx, who has worked with Big James and The Chicago Playboys, on drums.
The album opens with "Little Bit of Soap" and one can't help but immediately notice Alexander's soulful voice and stinging guitar. The horn section of Ryan Nyther, trumpet; Bill McFarland, who has worked with Otis Clay and Liz Mandeville, trombone; and Chris Neal, tenor sax, complete the sound. They are heard throughout the recording.
Things really begin to heat up on "Booze and Blues", the first of eleven new songs written by Alexander. "Somebody tell me what is wrong with me. I drink some booze and play the blues, ain't got no bad news." "Saw my baby other day, walkin' down the street with another man, it didn't bother me til' I saw them holdin' hands, do you know what I did, bought me some booze, got my guitar and played some blues, when I do that ain't got no bad news." Purifoy takes a great organ solo. Alexander then sings "Lost my job, they repossess my automobile, you know they foreclosed on my house, you know ain't got no where to live, you know what I did." Alexander takes a guitar solo. This is a great performance.
On "Things Done Changed" Alexander reflects on his youth when a young black man had to take a back seat. It's an affirmation of the progress he has witnessed.
Harmonica ace Billy Branch guests on "Call My Wife (I'm as Drunk as I Can Be); "Can't Drink, Can't Sleep, Can't Eat", and on "Too Old to Be a New Fool". Purifoy switches to piano and he and Alexander solo nicely on "Snowing in Chicago". Other originals include the title track; "Booty Call"; "Funky Feeling" and "Goin' Out Walkin". Also included is a great cover of Willie Dixon's "I Can't Quit You Baby".
Alexander and this veteran band are some of Chicago's best.
Richard Ludmerer