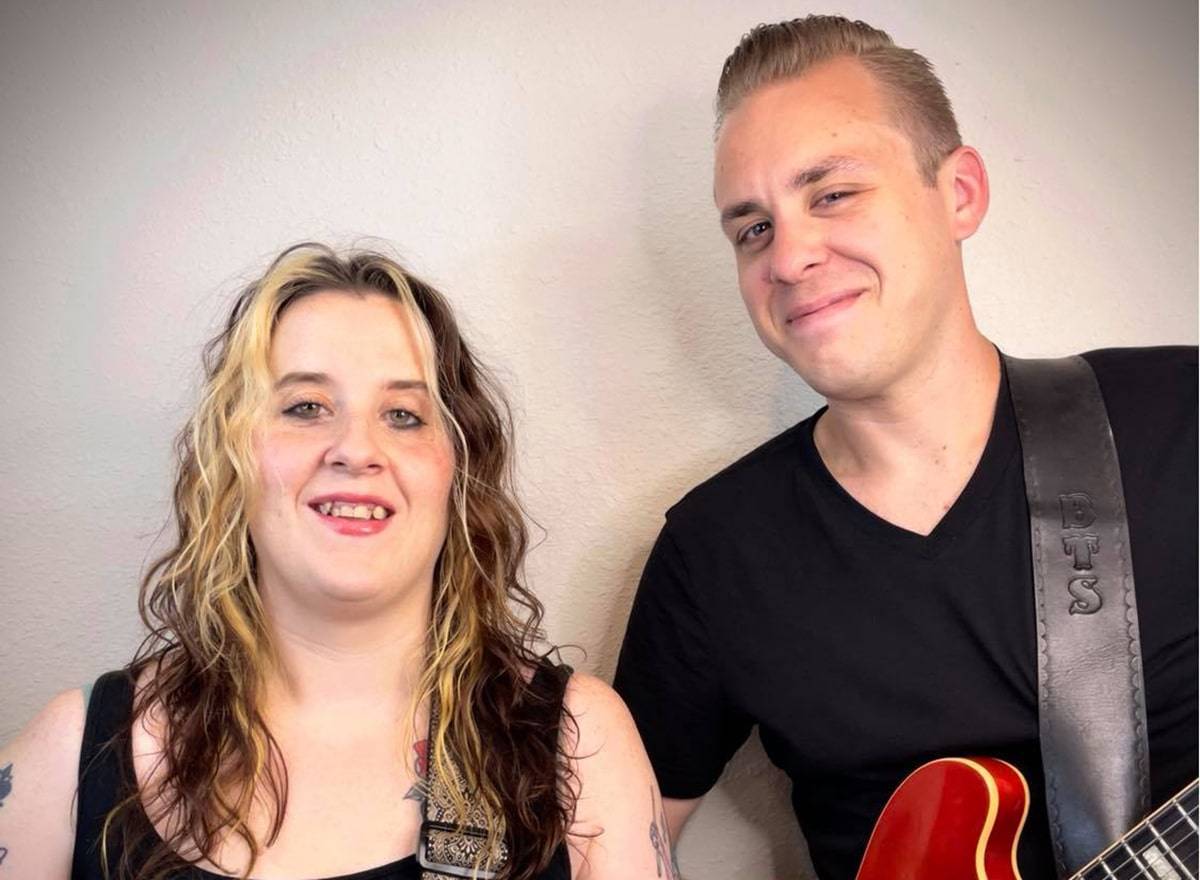 ---
---
---
---
---
---
---
---
Making a Scene Presents an Interview with Lindsay Beaver and Brad Stivers
Lindsay Beaver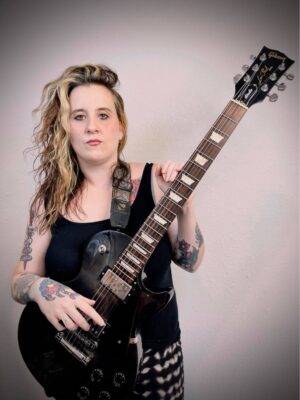 When blues-rocking, soul-singing drummer, songwriter and bandleader Lindsay Beaver takes the stage, she makes an immediate and unforgettable impression. Standing front and center at her kit, singing every song from the depths of her soul, she delivers blues, R&B and old school rock 'n' roll with punk rock energy, and sings with a voice brimming with attitude and soulfulness. She comes at every song with urgent intensity, soul-baring emotion, a distinct swagger and a take-no-prisoners confidence. With influences ranging from Little Richard to The Ramones, from Billie Holiday to Queens of the Stone Age, Lindsay has crafted a timeless sound and personal style that simply cannot be denied.
Hailing from Halifax, Nova Scotia, Canada, Beaver possesses an old soul at the young age of 33. She is a classically trained vocalist and a jazz-trained drummer with a deep love and knowledge of roots music, from blues to jazz to R&B ballads to raucous rock 'n' roll. Live and on her recordings, she lays it all on the line, performing her signature mix of unforgettable originals and dance floor-filling versions of songs by artists as diverse as Sam Cooke and The Detroit Cobras. Her Alligator Records debut, Tough As Love, introduces her as a true force of nature with a sky's-the-limit future.
Tough As Love, produced by Beaver, was recorded in Lindsay's current hometown of Austin, Texas. She wrote seven of the album's twelve tracks, the striking originals melding seamlessly with the perfectly-chosen covers. Her deep understanding of blues and roots rock traditions is a launching pad for her songs, combining electric urgency with skill and finesse. Tough As Love honors some of Beaver's inspirations (including songs by Little Willie John, Angela Strehli and Art Neville) while introducing her own instantly memorable songs. Along with her touring band—guitarist Brad Stivers and bassist Josh Williams ("they are the glue that holds it all together," she says)—well-known friends including Marcia Ball, Dennis Gruenling, Laura Chavez, Eve Monsees and Sax Gordon all add their talents to the proceedings. According to Beaver, "These are all folks that I've admired or wanted to perform with for years. It was important for me to highlight people that have inspired me." From the first song to the last, Tough As Love is rough and raw, fearless and moving.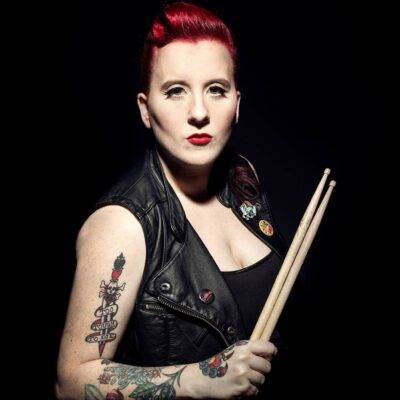 "Signing with Alligator is a true stamp of approval for any roots music artist," says Beaver, who has been releasing her own recordings and performing professionally for 15 years, first as a singer and then as a band-leading vocalist and drummer. "It's like a dream come true."
Alligator Records president Bruce Iglauer is thrilled to bring her into the fold. "I'm very excited to welcome Lindsay Beaver to the Alligator Records family. She's a great young talent. Her songs evoke the spirit of 1950s and '60s R&B and blues, but her singing and playing infuse them with a raw, rocking punk energy. Her music is full of unvarnished emotion and power."
Beaver grew up in a working class family surrounded by music. She loved to sing around the house (especially soul music), but she was a shy kid and only sang when she was alone. She discovered the music of Tupac Shakur at age 11 and fell in love with hip hop, which started her on a path back to soul, blues and jazz. At 14 she heard Jimi Hendrix and then, in her words, "everything changed." She got a guitar and learned to play. She was finally convinced by her friends to sing in public in her high school talent show. From there, she sang in school musicals and at open mic events around Halifax. But when she first heard Billie Holiday sing Don't Explain at age 17, Lindsay found her true musical direction. "I was floored," she recalls. "Her voice had more soul and emotional depth than any singer I had ever heard. Billie led me to lots of other jazz, and jazz led me to blues."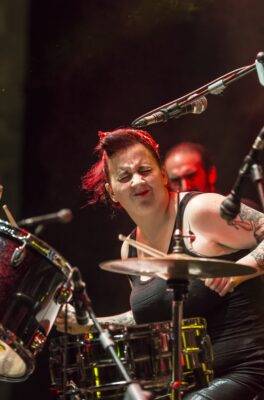 Immediately after graduating high school, Lindsay took voice lessons and began a self-described "crash course" in classical music. A quick study with obvious talent, she received a scholarship to train as a classical soprano. Around the same time, she put together a small jazz band featuring her vocals. "My drummer didn't want to keep bringing his drums over to my house for rehearsal," she recalls. So my dad scraped together enough money to buy a drum set to keep in the house. As soon as I sat down at that set, I got it." Her biggest drumming inspiration is the immortal Earl Palmer, who recorded with everyone from Little Richard and Fats Domino to Frank Sinatra, the Beach Boys, Dizzy Gillespie and Tom Waits. "He was the perfect drummer," she says. "He understood how to play for the song."
At the age of 19, Beaver saw Canadian blues icons The Garrett Mason Trio perform. Between the hordes of happy, dancing fans and the band's fiery-hot performance, Beaver came to a realization then and there. "I want to do that," she decided. "Have a band, actually be a real musician." Later that week she went to the local Sunday night blues jam. "I didn't tell any of the blues guys about my singing. I figured that if I told them that I sang, nobody would take me seriously as a drummer. So I did my jazz gigs in town singing and then would go to the blues jam on Sunday as a drummer."
Wanting to broaden her horizons, Beaver headed to Toronto to study jazz drumming, with the desire to take her percussion skills to a whole new level. "I got in," she recalls, "because I was the only applicant who could play a shuffle." She started a blues and soul group—the acclaimed 24th Street Wailers—and began making a name for herself in Toronto and across Canada. She befriended guitarist Jimmie Vaughan, who recognized her talent instantly. She started making regular pilgrimages to Austin to jam with locals beginning in 2014. When she relocated to Austin permanently in 2018, she formed a new band featuring her own soulful vocals and dynamic drumming and the talents of fiery guitarist Brad Stivers and rock-solid bassist Josh Williams.
Over the course of her career, Beaver self-released five albums by her band, the 24th Street Wailers, producing three of them. Tough As Love is her first release under her own name. She has toured Canada, the United States and large swaths of Europe, and will be back on the road bringing her new music to places far and wide, earning new fans at every stop. "I like music with drive and passion," she says. "I write what I know and I sing what I know. At my shows, I want people to have fun and to be moved. I want everyone to be inspired to dance and I want at least some people to be moved to tears. And I definitely want every person to go home saying, 'I'm never going to forget this.'"
Brad Stivers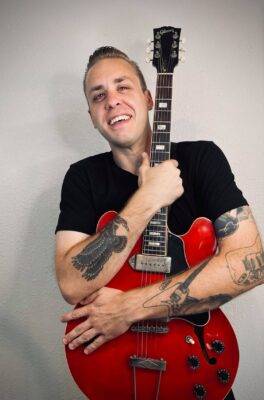 One of the hottest new young singers and guitar players coming out of Austin, Texas, Brad Stivers is making a name for himself through his ferocious guitar playing and powerful signature vocal style. By blending elements of blues, soul, and rock and roll, Stivers has created a sound all his own while showing respect to the legends that came before him.
Born in 1991 to a military family, Stivers and family moved around a lot before landing in Arlington, Washington in 2002. Stivers' parents were not musicians, but music lovers to be sure. Stivers' father encouraged him to follow his interest in music and it was in Washington where Brad started taking guitar lessons and attending local blues jams. After hearing sounds from the likes of BB King, Stevie Ray Vaughan, Jonny Lang, Brad was completely hooked on their music.
In 2010, after moving to Colorado to attend university for music, Stivers formed his first working blues band called, Bad Brad & The Fat Cats, with fellow music students. From 2010-2014, Brad and his band played all around Colorado at major regional festivals such as New West Fest/ Bohemian Nights in Fort Collins, Greeley Blues Jam Festival, Carbon Valley Music Fest, and  various clubs around the state. It was with this band that Stivers would represent the Colorado Blues Society at the 2014 International Blues Challenge, where the band made it to the final round at The Orpheum Theater in Memphis.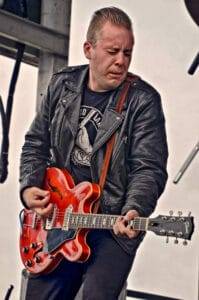 After finishing school in Colorado, Brad relocated to Austin, Texas in 2015, where he resides today. While in Austin, he has sharpened his skills as a guitarist, vocalist, and performer by playing with and being a part of the rich musical culture that exists in the "Live Music Capitol Of The World." In 2017, Stivers released his debut solo record, "Took You Long Enough", on the well known roots label, Vizztone Label Group. With that release, Stivers gained attention from roots music lovers across the globe, establishing himself as an up-and-comer and even receiving airplay on Sirius XM's Bluesville, as well as many Roots Radio programs in various countries.   Not long after his debut release, he joined Canadian transplant turned Austin-resident Lindsay Beaver, who immediately started touring up until the release of her debut album, "Tough As Love" with legendary blues label, Alligator Records in 2018, on which Stivers plays guitar on every track.
When he is not touring with Lindsay Beaver, you can find Brad playing at various clubs around Austin, as well as at the legendary blues club, Antone's, on Monday nights with his band, and Tuesday nights with Lindsay's band.
Find our Podcasts on these outlets
Help Support Making a Scene
Your Support helps us pay for our server and allows us to continue to bring you the best coverage for the Indie Artists and the fans that Love them!
Make a one-time donation
Make a monthly donation
Make a yearly donation
Choose an amount
Or enter a custom amount
$
---
Your contribution is appreciated.
Your contribution is appreciated.
Your contribution is appreciated.
Donate
Donate monthly
Donate yearly
You can donate directly through Paypal!
Subscribe to Our Newsletter