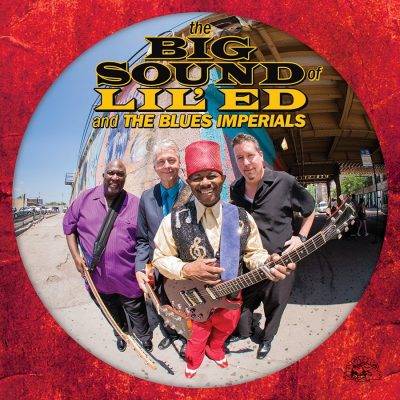 Lil' Ed & The Blues Imperials
The Big Sound of Lil' Ed & The Blues Imperials
Alligator Records
Lil' Ed Williams was born in Chicago in 1955. As a young aspiring guitarist Williams and his half brother bassist Pookie received encouragement from their uncle J.B. Hutto. "J.B. taught me everything I know" says Ed.
The Blues Imperials were formed in 1975 and played their first gig at Big Duke's Blue Flame. The gig paid $6; they split it four ways. After that they played every gig they could find but continued to work their day jobs in order to pay the bills.
Bruce Iglauer, of Alligator Records, was compiling an album to be called "The New Bluebloods". When he first heard them he offered them a chance to record their song "Young Thing". He was so impressed they wound up taping a full session and in 1986 The Blues Imperials released their debut "Roughhousin" with Williams playing slide and Dave Weld on second guitar. Weld left the band but the Imperials followed up with 1989's "Chicken, Gravy and Biscuits" and the lineup has been the same ever since. This is their ninth album for Alligator and eleventh for Williams overall.
The Blues Imperials have been nominated eight times as Band of The Year at the annual Blues Music Awards winning that award in both 2007 and 2009. The Blues Imperials are Williams, lead guitar and vocals; Michael Garrett, rhythm and lead guitar; James "Pookie" Young, bass; and Kelly Littleton, drums. Sumito "Ariyo" Ariyoshi guests on keyboards.
The "Big Sound" implies just that. The Imperials can churn out the houserockin' boogies, vary the tempo with a shuffle, or play slower burning blues. Their sound is always raw and exciting.
Williams has written seven songs and co-written five more with his wife Pam. "Raining in Paris"; "Black Diamond Love"; "Is it You?" with Littleton and the band going crazy; "I'm Done" an uptempo shuffle on which Garrett takes the lead; "I Want It All"; and "Green Light Groove" all feature Williams' fabulous slide guitar. Other Highlights include the humorous "I Like My Hot Sauce Cold" and "Whiskey Flavored Tears" featuring Ariyoshi on piano.
My favorite however just might be "Deep in My Soul" with Young's solid bass line and Williams' best vocal. They also cover two songs from uncle J.B; "Shy Voice" and the burning "I'll Cry Tomorrow".
Over the years Lil' Ed and The Blues Imperials have not only gotten better; they have also become one of the most "in demand" bands for concerts or festivals. Catch up with this winning band soon.
Richard Ludmerer