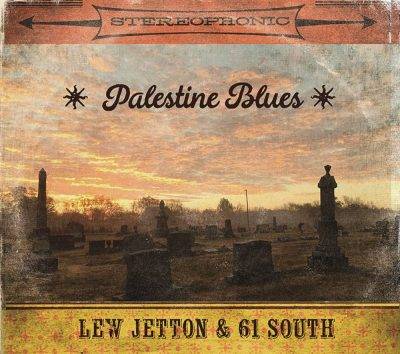 Lew Jetton & 61 South
Palestine Blues
Coffee Street Records
Lew Jetton is a former local radio and television meteorologist and news anchor. In 1994 Jetton joined the Paducah, Ky based blues band "61 South". When their lead singer left the band Jetton became their frontman. The band opened for Luther Allison, Koko Taylor, Little Milton and Chuck Berry. The band's first album "State Line Blues" was originally issued in 2000. Their follow up album "Tales from A 2 Lane" was released in 2006. They're third and last recording, 2016's "Rain", was widely acclaimed and received world-wide airplay.
Currently the band lineup is Jetton, guitar and vocals; Eric Eicholtz, drums; Otis Walker, bass; and Col. J.D. Wilkes, harmonica. The recording was mixed and mastered by Heath Glisson at The Coffee Street Studios in Paducah, Ky. All of the songs were written by Jetton who also produced the album.
Palestine is a rural community near West Paducah. The front cover is a photo of the Palestine cemetery. Jetton says the album is a "personally poignant and sometimes brutal memoir of a 10 year period" in his life "which included struggles with alcohol, drugs, depression, joblessness, frustration and a spiritual tug of war".
The opening track asks the question "Will I Go To Hell". "I asked a preacher, I was worried about my soul, will I go to hell if I loose control, and he said, and he said…I hear you're a politician…will I go to hell if I don't vote your way and he said…head on…head on to hell". Jetton's guitar intro and Wilkes harp make this a fabulous tune.
"Oh, My, My" is about depression. "There are days I don't get up, don't leave home, I hate this job, I hate my life, this is what it feels like to die".
"Mexico" is about joblessness. "Every month I get my pay, livin off the government, I don't want to live this way…that's the way, that's the way, it goes, since my job went to Mexico". Jetton's rhythm guitar is solid. They "Sold Us Out" continues with the same theme, "they want to take away my overtime". Once again Wilkes harp adds the finishing touches.
"Drinking Again" is a country-ish tune. Jetton sounds like Willie Nelson; "yes, I guess it's a sin that you're drinkin' again". Jetton takes another nice guitar solo.
"Don't Need No Devil" to take me down to hell; I don't need not help at all, I've done it to myself". Jetton's guitar is spacey and evocative.
Jetton's vocals are friendly; he's a good singer. The lyrics may be dark but the album rocks. This exciting album is a marvelous effort.
Richard Ludmerer
[amazon_link asins='B0747Q3NRD,B01JL1BEJ4,B0015KMUXE,B0747T88C6,B0012AKYBC,B0012AKVWO,B01JL1DNXE,B01JL1BS8Q,B0012AKVT2′ template='ProductCarousel' store='maasc-20′ marketplace='US' link_id='97d7bd4b-8be1-11e7-ac7e-653fe411ab51′]