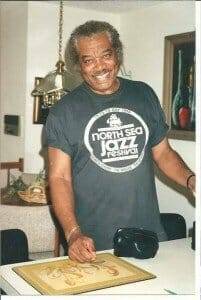 Legendary Artist LeRoy Crume dies at 81
The music is what matters most…
LeRoy Crume died Monday October 20th at his niece's home in Michigan City, IN.
Born in Swift, MO on June 20th, 1933, LeRoy had 7 brothers and 2 sisters. LeRoy grew up singing with his brothers and started playing professionally at age 8 with The Crume Brothers who were credited for introducing electric guitar into quartet music.
Over the span of more than 65 years as a career musician, LeRoy was a major influence on all genres of music.
He was a prolific songwriter, had an amazing baritone voice, and played guitar, piano, and organ.
In the 50's he joined grammer school friend Sam Cooke in the powerful Soul Stirrers .
LeRoy and Sam co-wrote some of the biggest hits in music history influencing Blues, Soul, Gospel, and Rock musicians worldwide.
LeRoy's baritone vocals and stellar guitar playing rounded out the legendary Soul Stirrers sound.
LeRoy attended grammar school with Sam Cooke and Pervis Staples and Cleotha Staples of the Staple Singers.
He also played guitar for Aretha Franklin and bass guitar for The Staple Singers. In 1965, LeRoy left the group to join the cast of "Jubilee Showcase", a weekly television show where he appeared as a regular musician until 1980 when he returned to The Soul Stirrers.
The Soul Stirrers were inducted into the Vocal Group Hall of Fame on October 20th, 2000. They were also inducted into the Gospel Hall of Fame in Detroit, Michigan on October 21, 2000. In 2006 they were nominated for a 2010 Stellar Award.
LeRoy is survived by sons LeRoy Crume Jr (Beverly), Kevin Maurice Crume, daughter, Stephanie Holmes, grandchildren Reginald Crume, Latasha Crume, Kelvin Maurice Wilson, Lashell Crume, Lucreitia Daniels, Tanisa Ralston, Taylor Watson, Great granddaughter Caylin Marie Crume, brother Arthur Crume, Floyd Crume, sister Anna Lou Meeks, and many loving and nieces and nephews and two of his close friends Otis Clay and Benny Turner.
The family would like to thank Music Cares, The Actors Fund for everyone, The Musicians Foundation, and The Blues Foundation for their support during this difficult time.
Services will be held Tuesday Oct 28th, 2014 officiated by Pastor Stanley Mason
Wake 3:00-4:00 and Service to follow at
Mount Zion Missionary Baptist Church
123 Helen St
Michigan City, IN 46360
Phone: 219-872-5275
The Repass follows immediately
Burial will be Wednesday October 29th, 2014 at 11:00am
Swan Lake Cemetery
5700 East US Hwy 20
Michigan City, IN 46360
To sign the guestbook, please visit:
In lieu of flowers donations can be made to
LeRoy Crume
c/o US Bank Austin Branch
5201 West Madison St
Chicago, IL 60644-4142