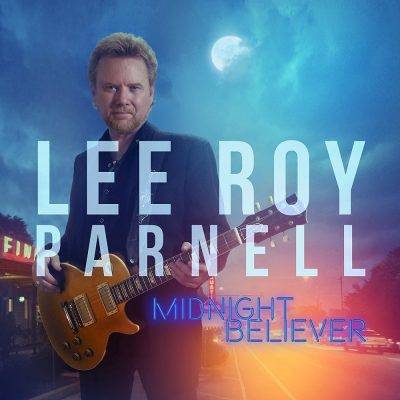 Parnell is a Bluesman too!
Lee Roy Parnell
Midnight Believer
Vector Recordings
Lee Roy Parnell was born in Abilene, TX. in 1956. His father toured with Bob Wills and Parnell appeared on Wills' radio show when he was six years old.
In 1974 Parnell moved to Austin where he played with Kinky Friedman. He moved to Nashville in 1987 and released his Arista Records self-titled debut recording three years later. Produced by Barry Beckett of the Muscle Shoals Rhythm Section the album was primarily horn driven country-soul. Parnells next two albums featured his slide guitar and produced six songs on the country music charts.
Parnell joined Arista's sister label Career Records and his album "We All Get Lucky Sometimes" produced four more hits including a duet with Trisha Yearwood. His fifth album 1997's "Every Night's A Saturday Night" produced two more singles and a Grammy nominated instrumental produced by his band, The Hot Links, also featuring James Pennebaker, Kevin McKendree, Lynn Williams and Stephen Mackey.
Parnell's 1999 recording "Hits and Highways Ahead" included his version of Son House's "John The Revelator" featuring The Fairfield Four and it received a CMA nomination for "Vocal Event of The Year". His 2001 album "Tell The Truth" was produced by Johnny Sandlin and recorded at the Muscle Shoals Sound Studios. Guesting were Keb Mo', Delbert McClinton and Bekka Bramlett.
In 2006 Parnell returned to his blues and southern soul roots and released his last album "Back To The Well". His band included Pennebaker, McKendree, Mark T. Jordan, Lynn Williams, Tom Hambridge and Regina McCrary. Parnell afterwards developed a relationship with both Les Paul and Gibson Guitars culminating in the production of Gibson's Lee Roy Parnell Signature 1957 Les Paul Goldtop.
Parnell was inducted into the Texas Heritage Songwriter's Hall of Fame in 2011 where he joined songwriters Roy Orbison, Roger Miller, Willie Nelson, Waylon Jennings and Kris Kristofferson.
This year Parnell appeared on Ronnie Baker Brooks' "Times Have Changed" cd. This new blues and roots album is Parnell's first in eleven years and his first ever independently produced recording.
All of the songs were written by Parnell and Greg Barnhill. The album is produced by Parnell. The core band is Parnell, guitars and vocals; Tom Bukovac, guitars; McKendree, keyboards; Mackey, bass; and Williams, drums. The background vocalists are Etta Britt and Barnhill. They open with the Stevie Ray Vaughan influenced "Hours in Between". They also play on "Too Far Gone" a soulful introspection. "Hair of The Dog" was inspired by Jimi Hendrix; while "Some Time Ago" is the closer.
The other six tunes feature an all together different ensemble with Bob McNelley, guitars; Mike Rojas, accordion and keyboards; David Labruyere, bass; and Chad Cromwell, drums. They are featured on the title track, and on "Pontchartrain". "Sunny Days" also features The Fairfield Four and the lyric "at least I've lived long enough to know that the rainy days, they make the flowers grow". Barnhill sits in on bass on "Going Uptown". The song chosen for airplay is "Tied Up and Tangled".
Parnell's delivery is soft, sweet and laid back. Vocally he reminds me of Boz Scaggs. There is a lot of soul in Parnell. This is an impressive recording.
Richard Ludmerer
[amazon_link asins='B073V5MZK4,B004IE1QOS,B000E1NWVO,B00005J9TD,B004IDWOKE,B000002VNQ,B004IDWOM2,B004IDWOPY' template='ProductCarousel' store='maasc-20′ marketplace='US' link_id='6d907a40-8930-11e7-82d5-41b5f2675190′]