*EDITORS NOTE: L A W toured with Amy Winehouse as one of her backup singers, and he is the Funk and HIP HOP editor for Making a Scene.

L*A*W's Open Letter To Amy Winehouse
Hey Lioness xoxo
I just know that you are having the time of your life in Heaven not having to deal with the struggle & pain you suffered mentally & physically. But here on Earth, me as well as the fans & other band members miss you more than words can ever express especially since this was the day that my family reunion was at my house in a great spirit only to have it broken when my youngest daughter ran in to tell me that you were all over the news which is when I found out after numerous texts that you had left us. There isn't a day that goes by that I don't think about you thanks to the most incredible fans you have around the world who paint & create some of the most endearing homages to you & your musical vision and I never get tired seeing girls dress up like you or quoting some of your lines of the classic songs. The best part for me is people coming up to me imitating me & Zalon's dance steps. There's a joy in my soul in knowing that in that short period of time that I was with you, we were making music history & creating memories that are still being talked about in 2014 from the iconic David Letterman show to the 2007 MTV Movie Awards. Being able to hang with your mom & your dad this year truly helped bring even more closure to the testament of your legacy
For the last 3-4 years, All I do is sit back & watch countless other female artists wishing that they were you be it biting your production style or even publicly saying that they wanted to sound like you & wish that they could. Though it is flattering & rewarding to hear & to know that even in your absence that your swag is still a incredible looming presence in the industry, those artists don't realize that your style is a combination of the greats that came before us which you like me intensely studied to the point where it morphed into your own thing.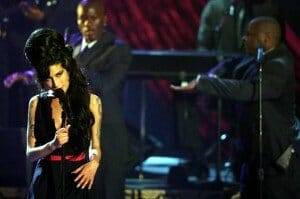 As I go through my own journey in this music biz, I stand up for the fact that I had someone like you who was at the very top of the music biz on her own terms co-sign my Planet 12 musical movement when you truly didn't have to. Still can't believe Blake played my album for you because I never asked him to. The fact that you loved the way I sang & danced enough to make me a part of your American TV debuts was enough for me. Plus to be affiliated with the girl who brought mainstream attention back to the
real cutting edge Soul/R&B/Funk/Ska & even Blues/Jazz style in the midst of all the overplayed techno pop dance shit gave me the notion that an artist like me didn't have change what I was doing. It gave me even more confidence to stay true to who I was especially since I was singing back-up for an artist who was opening an even bigger door for our kind of artistry. It was further confirmed when you and your manager chose me to be your NYC opening act though your label was against it. I'm forever & proudly in debt to you for that because again, this was your moment in the spotlight and you didn't have to share with anyone.
I miss our deep music talks, funny ass sound checks, our jokes & it blew my mind when you knew who my legendary granddad. The greatest feeling was opening up a show for my mentor George Clinton In Brooklyn & him coming to me inquiring about wanting to record with you because he loved what you were doing. It all made sense because if I would've never heard "F*** Me Pumps" after your management team offered me the job after yall saw me on My Space, I would've made one of the biggest mistakes in my life and career by saying no. And thank you for making my daughter's day by signing that autograph for her. Lastly, No matter how the world judges you, we are alllllways gonna love you & will continue to keep your name & vision alive…Love You & Miss You Amy 🙂 xoxoxox
L*A*W
The Most Talented Kid In The Music Biz #Planet12