---
---
---
---
---
---
---
---
Making a Scene Presents an Interview with Kris Gruen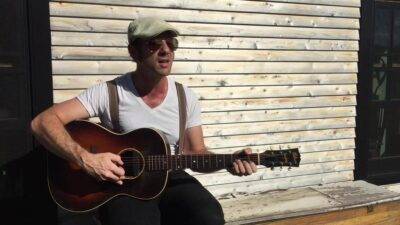 It was in Vermont's rural backcountry woods, mountains, and fields that surround his family's organic farm, that Kris Gruen began writing his fifth studio album, Welcome Farewell.
"I felt like a naturalist," says the alt-folk songwriter, who had spent much of the previous decade on the road, strumming his songs to crowds on both sides of the Atlantic. "For a traveling musician, it can be rare to choose a place in the world where you can put down your roots in this most concrete of ways. I now have a big physical commitment to home — to the farm that my family built from scratch, where my wife grows Brussels sprouts and my grandmother is buried. It was while hiking in the nearby woods that I found the reflection and context needed to write about the people and relationships that make up my family and community life. When I removed myself physically from my home to write, I could write about home more genuinely."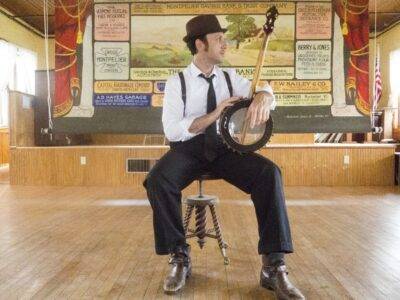 Welcome Farewell finds Kris Gruen spinning autobiographical stories of family, community, and the farm life within which he is immersed. It's a memoir of sorts, filled with names, places, and other details sourced from his own experience. Gruen has always been a storyteller, but he's rarely been this personal before. The central characters who occupy Welcome Farewell's songs are real people, including his late grandmother — whose influence is honored with tracks like "Apple Tree" and the cinematically-arranged "Skyline Drive" — and his wife, who invites her husband to join her in the fields in "When She Says". All the songs on this album are made earnest by the writer and producer's allegiance to their acoustic soul, but are energized and affirmed by the swooning pedal steel, horns, keys and rock-solid rhythm section that deliver stellar and personalized performances throughout.
Produced by longtime collaborator Charles Newman (Magnetic Fields, The Bones of J.R. Jones, Kate Vargas,) Welcome Farewell does more than evoke the white pine forests, stream beds, and family relationships that punctuate Gruen's existence in Vermont. A slowed-down cover of Johnny Thunders' "You Can't Put Your Arms Around a Memory" is reborn as a gorgeous piano ballad, and nods to a childhood spent bouncing between his Greenwich Village home and the punk clubs of New York City, where his father has worked as a rock & roll photographer all of his life. Looking to blaze his own path, Gruen initially stayed away from the family business, establishing himself not as a musician but as an up-and-coming poet during his early 20s. He then began writing songs at 25 years old, mixing the literary skills he'd honed during his previous job with a versatile voice that suited his brand of modern (yet still classic-minded) roots music. With his 2007 debut, Lullaby School, his third album New Comics From the Wooded World (2013), and 2018's Coast & Refuge, Kris Gruen built his reputation as an alt-folk heavyweight, earning comparisons to Paul Simon, and international tours throughout the UK, EU and Brazil along the way.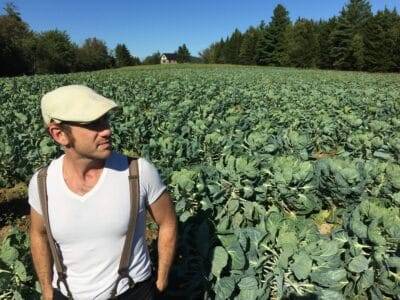 For years, Kris Gruen's concerts have typically found him performing alone, relying on nothing but his vocals and acoustic guitar. Welcome Farewell honors that foundation, anchoring itself firmly in the raw, rootsy appeal of his stripped-down stage show. At the same time, the album also makes a lot of room for an amplified band of instrumentalists who add twang and texture, like the horns and hand percussion that evoke a New Mexican landscape in "The Painter", the electric guitar that adds barn-burning dynamics to the chorus of "Nothing in the World", and the brushed percussion and gauzy keyboards that channel the laidback lilt of Sunday morning on "Apple Tree". These elements reinforce and embolden these songs that Gruen wrote alone. The result is an album that's both intimately conceived and collaboratively presented, a fitting combination for songs that take stock of Gruen's place within his family, his town, and the wider world.
"There's a real 'band sound' on this record," says Gruen, who tapped friends like drummer Randy Schrager (Scissor Sisters, Jesse Malin) and solo artist Michael Flynn (Slowrunner) to join him in the recording studio. "I wanted to build the orchestration around the starting point of me being an acoustic singer/songwriter, but I also wanted to leave breathing room for the band. The instrumentalists aren't just supporting a lyric,  they're playing to the message and the sentiment of each tune. They're speaking back to the storyline."
Guest list notwithstanding, Welcome Farewell is one of Gruen's most personal records to date, featuring a rural sound that's reflective of his small-town existence and worldly perspective. Influenced by the overlapping worlds of folk, Americana, northern country, and roots-rock, it's a musical homecoming — the sound of a touring musician seeing his home through new eyes and sharply-written songs.
Find our Podcasts on these outlets
Help Support Making a Scene
Your Support helps us pay for our server and allows us to continue to bring you the best coverage for the Indie Artists and the fans that Love them!
Make a one-time donation
Make a monthly donation
Make a yearly donation
Choose an amount
Or enter a custom amount
$
---
Your contribution is appreciated.
Your contribution is appreciated.
Your contribution is appreciated.
Donate
Donate monthly
Donate yearly
You can donate directly through Paypal!
Subscribe to Our Newsletter