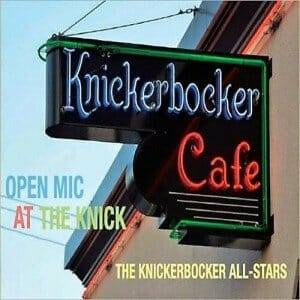 Knickerbocker All-Stars
Open Mic at The Knick
JP Cadillac Records
J.P. Sheerar was a regular at The Knickerbocker Café. In the old days Roomful of Blues used to have weekly jam sessions at the club. Sheerar is an avid blues aficionado and collector. It was his idea to select songs to be recorded by musicians who frequented the Knick and to document it's importance. They decided to name the project "Open Mic at The Knick".
Sheerar's friend Bob Christina was working as a drummer in a blues band called Ricky King Russell and the Cadillac Horns. That band agreed to do the session. Then it was time to gather together some of the players who had been there "when". Al Copley, piano; Rich Lataille, sax; and Bob's brother Fran Christina, drums, were all original members of the Roomful of Blues. So they signed on and joined Russell, guitar; and his band Bob Worthington, bass; and the Cadillac Horns, Doc Chanonhouse, trumpet; Bobby "Breeze" Holfelden, trombone, and Dennis Cook, baritone sax. Also added was guitarist Nick Adams from the Darrel Nulisch Band. Blues Music Award winner David Maxwell, piano; who had actually played on some of the original songs agreed to sit in on those numbers.
In order that the songs resemble the originals they now needed some dynamic vocalists. BMA winners Sugar Ray Norcia and Curtis Salgado had both sung with Roomful of Blues. Norcia sings on both B.B. King's "You Upset Me Baby" and on Roy Milton's "It's Later than You Think". Salgado sings on "Ain't That Lovin You".
Johnny Nicholas, who once owned the Knick, had fronted his own Providence, R.I. based band, Johnny Nicholas and The Rhythm Rockers. Nicholas sings on "Jelly, Jelly"; on "Along About Midnight" with Maxwell on piano; and on Lowell Fulson's "Reconsider Baby".
Brian Templeton, the front man for The Radio Kings which also included Bob Christina on drums, sings on "I'm Tore Down". Mike O'Connell, a bassist with the Radio Kings, sings on Don Nix's "Going Down"; Maxwell who played on the original is again on piano.
Two Texas based bluesman were corralled. Willy J. Laws handles the vocal chores on both "Mother-In-Law Blues" and on John Lee Hooker's "Five Long Years". Malford Milligan sings on "Turn on Your Love Light" and on Gene Dinwiddie's "Love Disease".
J.P. Sheerar, the man with the plan, is credited as co-producer along with Bob Christina and engineer Jack Gauthier, owner of J.P. Records. Sheerar, today a financial advisor, may have done it years ago, but it's on record now; Sheerar sings on "Somebody's Got to Go".
The cd release party was held at The Knickerbocker Café. It must have been a hoot.
Richard Ludmerer