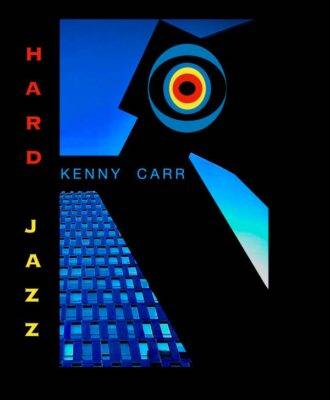 Kenny Carr
Hard Jazz
Self-released
There's a subtle clue in the title Hard Jazz that refers to guitarist Kenny Carr's spot in Ray Charles' band for over ten years. Yes, "Hard Times," the title of one of Brother Ray's biggest songs and a term this writer has heard others exclaim in the context of blues – "hard blues," of course. From a critical standpoint though this effort from Carr lies somewhere between all three of the terms, "hard jazz," 'hard blues," and "hard rock." We'll get to that shortly but to finish the thoughts Carr's tenure with Ray Charles, note that Carr was the lead guitarist on Charles' recordings "Just Between Us" and "Live at Montreux." Since Charles passing Carr performed in Maceo Parker's Ray Charles tribute bug band in addition to playing in NYC jazz clubs with his own quartet. This is his eighth album as a leader.
On this set, Carr plays in a trio, usually with renowned drummer Richie Morales and bassist Dave D'aranjo except on two of ten tracks. Morales, of course, came to fame with The Brecker Brothers but has a deep resume that includes Gato Barbieri, Ray Barretto and Dave Valentin, to the more traditional jazz sounds of Dave Brubeck and Herbie Mann. He has also performed and recorded with the late Grover Washington Jr., Stevie Wonder, Carly Simon, Dianne Reeves, the Mike Stern Group, George Russell's Living Time Orchestra, as well as the Al DiMeola Electric Project, and saxophonist Bill Evans. Dave D'aranjo's background lies mostly in theater productions and musicals.
This is a foray into rock n' roll, a genre that Carr has always loved but never put on record until now although he claims he did touch on it in his Exit Moon album. Carr revives several of his compositions that span his 40 years of playing and writing. Many were reconfigured and born out of sessions that he and Morales had. He and Morales recorded many of the pieces just prior to the onslaught of the health pandemic. This is, for lack of a better description, the electric guitar fusion sound like artists Mike Stern and, due to its emphasis on rock, to the Jeff Beck sound too.
The title track has Carr wielding not only his blazing Telecaster but G Synth and bass too, while Morales pushes him and takes an explosive solo. The opening orchestral "Prelude to a Lead" has Carr not only on guitar and the G Synth but keyboards too as he's joined by D'arnajo on bass and Nashville drummer Brian Fullen. Fellow Ray Charles alum Darren Solomon Is the drummer for "Out West." The album is a balance between all three of the forms as mentioned above with melodic lines throughout such as on the flowing "Question." The swaying "Chicago Ray" and "Electric Blue" plenty of blues while "Keep Me Searchin'" has as good rock guitar soloing as you'll hear anywhere. Carr's guitar soars, burns, slices, and grooves. Don't expect any gentle caressing as no ballads show up here. It's all about letting loose. Carr's guitar will take you to outer realms.
Jim Hynes