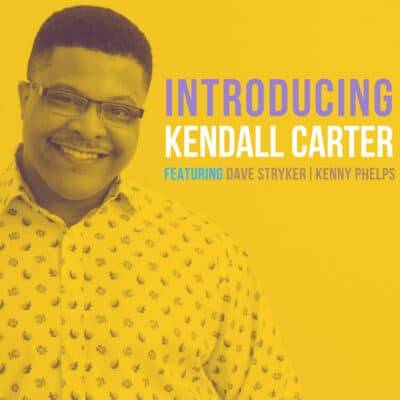 Kendall Carter
Introducing Kendall Carter
Lladnek Music
Recently one of my review comments was that organ trios are far from dead. In fact, we've seen several contemporary twists on the idiom lately, but newcomer B3 master Kendall Carter mostly embraces the tradition on this soulful, bluesy debut. Impressively he teams with one of today's most renowned guitarists, Dave Stryker, who leads his own group and has lent his chops to several others. In fact, Stryker produced the session while Carter did the arrangements of mostly well- known tunes as well as adding one original. Indianapolis-based drummer Kenny Phelps completes the trio which has played together in clubs and festivals. Carter also has deep gospel roots and currently serves as Minister of Music at a church in Louisville.
We've covered Stryker several times on these pages so readers should be familiar with his approach – smack dab at the intersection of jazz and blues. Prior to leading his own groups, Stryker's legacy includes long stints with Stanley Turrentine as well as revered organist Brother Jack McDuff. Phelps has both a jazz and gospel background and has played and recorded with Dee Bridgewater and Melvin Rhyne. So, Carter certainly has trio mates who are comfortable in this setting.
The session runs just short of an hour coursing through 11 tracks in the four-six-minute range with standards such as "Blame It on the Boogie," 'Afro Blue," Bill Withers' "Lovely Day," and Lee Morgan's "Speedball." Jazz aficionados may also recognize Kenny Dorham's "Short Story," Carla Bley's "Lawns," Sam Rivers' "Beatrice" and one that George Benson, Aretha, Nancy Wilson, and Al Jareau popularized "The Masquerade Is Over." Carter can swing and bring it down to a sultry simmer as evidenced by the vibrant interplay between he and Stryker on the Dorham tune which is immediately followed by the slow boil of Bley's "Lawns" and ramped back up again for the one that was a staple in Turrentine's repertoire too, Morgan's rollicking "Speedball." Carter's contribution, "Punjabi Affair" carries a mid-tempo groove and Stryker penned the closer, "Blues for Kendall," giving the upstart a chance to strut his stuff in the album's most explosive track.
So, welcome another budding organist to the scene. While this breaks no new ground, Carter and his trio mates deliver tasteful music in familiar territory, designed that way so that the listener can gain an appreciation for Carter's considerable skill and soulful feel. Next time out, it may get more adventurous.