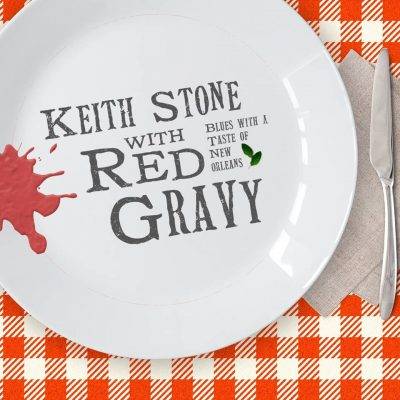 Keith Stone With Red Gravy
Blues With A Taste of New Orleans
Independent
Keith Stone, guitar and vocals, was born in uptown New Orleans and began learning to play music on the streets of the French Quarter. His first paying gig was with the "Slu Foot Blues Band" opening for Rufus Thomas. In 1990 he began a five year stint with the eight piece show band "Willie Lockett & The Blues Krewe". During this time the band opened for Ray Charles, Gladys Knight and Albert Collins. He shared the stage with Irma Thomas, Ernie K. Doe, Dr. John, Wolfman Washington and George Porter Jr. In 1992 he played the New Orleans Jazz Fest with the band and guitarist Wayne Bennett who became his mentor.
In 1994 Stone found a higher calling and left New Orleans to become an ordained pastor in South Carolina. In 2005 after Katrina hit home, he and his wife Cindi, used their money to return to New Orleans to help with the recovery. In 2008 he began gigging again and officiated at Coco Robicheaux's funeral with a project called "Brother Stone and The Prophets of Blue". In 2016 he released his debut album "The Prodigal Returns", a tribute to his hometown, with guest appearances by Dr. John, Bruce "Sunpie" Barnes and Joe Krown; his mission "to play your blues away".
There is a joke about New Orleans musicians that "there's only one band but it has five thousand members". That if you're going to maintain a busy schedule you better have a good phone list. When Stone had a short tour to the Florida beaches he assembled a band including Tom Worrell, who had played with Solomon Burke, Johnny Adams, Deacon John, and Wolfman Washington, keyboards; Eddie Christmas, who toured with Gerald Levert, The Black Crowes and Jon Cleary, drums and percussion; and Keenan Shaw who played with John Lisi, Jason Ricci and Candye Kane, bass. Something special was happening so the band came up with their name the same way Stone's Sicilian mama cooked up her beloved sauce, by simmering New Orleans spices and spirit. "Before they could shake the sand out of their shorts, Keith Stone With Red Gravy, had won the New Orleans Blues Society's local International Blues Challenge" and they were off to Memphis.
All of the eleven songs were written by Stone with the band. The album is produced by Worrell. The band opens with "Ain't That the Blues" as the rhythm section finds its groove. Brent Johnson is added on slide to make twin guitars. Stone's vocal really shines.
The funky "Love Done Put Me Down" features Shaw on bass while Christmas adds some extra percussion to his beats. Worrell's keyboards and Stone's guitar begin to simmer. The whole band cooks as the gravy boils. This is fabulous.
Jimmy Carpenter saxophone is added on "You Ain't Got Nothing"; on "Crazy in Love With You", and on "Time To Move On". Carpenter's solos are delightful.
"Red Gravy" features the lyric "Way down in New Orleans, a city that loves to eat, we got a special dish we make with or with out meat, now you may call it sauce but let me tell you somethin' baby, when you get down here we call it red gravy…I like it in my pasta and in my shrimp stew. Give me red beans on Monday, and a little gumbo Friday afternoon, but on Sunday only red gravy will do. Now my mama she could cook and she learned this here recipe from her mama's mama in Sicily. Now my daddy he met mama while on leave from the Navy and his ship went down in sea of her red gravy. On your eggplant or meatball po-boy, Chicken parmesan…get some red gravy." Red gravy is a tradition in New Orleans. The band closes with "Something in the Water".
While mama's gravy blends tomatoes and spices, Keith Stone with Red Gravy is a tasty mixture of blues and New Orleans R n' B. They are one of the best new bands to come out of The Crescent City.
Richard Ludmerer
[amazon_link asins='B07G8325YG,B07G85Q2JK,B07G88946J,B07G87KQ4Y,B07G8739YP,B07G86BD5G,B07G861G3M,B07G8546NG,B07G853JWM' template='ProductCarousel' store='maasc-20′ marketplace='US' link_id='0d06a38f-c814-11e8-a606-e360bda8e898′]