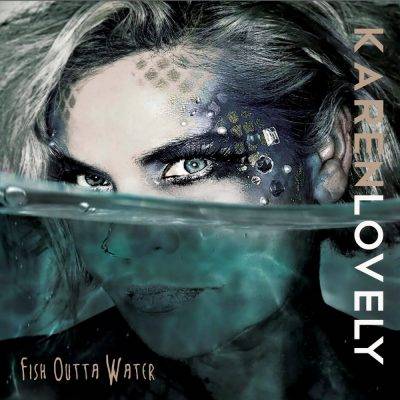 Karen Lovely
Fish Outta Water
Independent
Karen Lovely hails from Massachusetts. She started performing in 1987 but didn't start singing blues until twenty years later. She was living in the Pacific Northwest when she released her 2008 debut recording "Lucky Girl". Lovely competed in the band competition at the 2010 International Blues Challenge and finished in second place.
Lovely released her sophomore effort "Still The Rain" in 2010. At the 2011 Blues Music Awards she received nominations in three categories; "Best Contemporary Blues Female Artist", "Best Contemporary Blues Album", and "Best Song". Lovely's last studio recording 2015's "Ten Miles Of Bad Road", produced by the Grammy award winning Tony Braunagel, resulted in her receiving another BMA nomination as "Best Contemporary Blues Female Artist".
Joining our Lovely vocalist are some accomplished band members including either Rick Holmstrom (Rod Piazza) or Doug Pettibone (Lucinda Williams), guitars; Taras Prodaniuk (Steve Earle), bass; and Matt Tecu (Janiva Magness), drums and percussion. Nine of the twelve tracks were written by producer Eric Corne, two with Lovely. The other three songs were written by Lovely; two of them with her touring guitarist Mark Bowden.
The first sound we hear is Holmstrom's guitar as he opens the title track. Skip Edwards is on the B-3 while Tecu's percussion enhances the production. Lovely's voice has the complexity that enables her to accentuate the emotions of one who is homeless and estranged from society; "A Fish Outta Water".
"Under The Midnight Sun" is another expressive vocal. Holmstrom is on guitar but this time it's Sasha Smith on the Wurlitzer. David Rahlicke is on sax while the rhythm section is fabulous. "Twist My Fate" features Corne on harmonica and acoustic guitar; and Smith on piano. "Waking Up The Dead" features Pettibone on a resonator guitar, Rahlicke on Cornet and Alan Mark Lightner on timbale and congas. "Big Black Cadillac" features Holmstrom on guitar; Corne plays acoustic guitar and provides the background vocal, the bass is upfront in the mix. "Everything Means Nothing" is a great song from Lovely and Bowden; Holmstrom is on guitar. Addiction and death are recurring themes in Lovely's songs.
"Hades' Bride (There Was a Time)" opens like a Guy Clark song. Eric Gorfain's violin highlights the lyric's starkness. "There was a time that your Love hit me like Frazier hit Ali". Lovely sings about domestic violence and sexual assault and is a supporter of RAINN the nation's largest anti sexual violence organization.
"Molotov Cocktails" features Pettibone on guitar and Tecu on drums. This song about death and social injustice contains the lyric "let's have a round of Molotov cocktails here".
"Next Time", "there'll be more fornication" is about heartbreak. Paul Parlapiano is featured on piano while Prodaniuk plays an acoustic bass.
"Nice and Easy" is another song written by the team of Lovely and Bowden. Lovely's sensual vocal is fantastic.
"Punk Rock Johnny Cash" is another great vocal from Lovely this time featuring Ben Rice on guitar, Bonhomme on mandolin, and Gorfain on violin.
"The River is Wide" is a song about redemption as Lovely takes us to church and Parlapiano switches to the Hammond organ.
Lovely combines contemporary blues and Americana better than most. Corne is a fabulous producer who also meticulously mixed and mastered these tracks with Mark Chalecki. This highly recommended album is one of the year's best.
Richard Ludmerer
[amazon_link asins='B072LYM9CM,B016JPB1C0,B0043T9E0Q,B00JXPGBFG,B072C6FMM4,B072FS7DYD,B0725ZTTRQ,B071SJ4LZ5′ template='ProductCarousel' store='maasc-20′ marketplace='US' link_id='9c9af2f8-5750-11e7-a3da-eb69b3c98e1a']