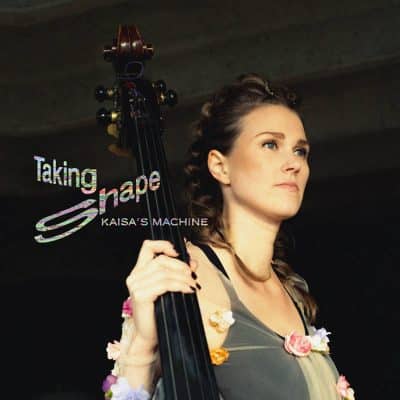 Kaisa Maensivu & Kaisa's Machine
Taking Shape
Greenleaf Music
The Finnish, now New York-based bassist and composer, Kaisa Maensivu, leads a high-profile unit that she calls Kaisha's Machine. While her name may be unfamiliar, her New York debut, Taking Shape, her second album overall, comes courtesy of Dave Douglas' Greenleaf Music, bringing instant credibility to fans of creative music. The leader has formed her group with some of the emerging talents in New York today, mixing her longtime collaborators such as drummer Joe Peri and pianist Eden Ladin with guitarist Max Light (first runner-up in the 2019 Herbie Hancock Institute of Jazz International Guitar Competition and leader of his own recently issued quartet album Henceforth), tenor saxophonist Tivon Pennicott, who we associate with Gregory Porter and Esperanza Spalding but who is revelatory in this quite different context, and poll-winning vibraphonist Sasha Berliner. The core group consists of bass, drums, guitar, and piano with vibraphone on two tracks and saxophone on five of the twelve tracks as the group stretches from quartet to quintet to sextet.
Befitting the Greenleaf label, Maensivu's music is often complex and demanding but rich in tones, and emotive qualities. We hear her robust bass to introduce the album, flowing directly into "Floating Light," which begins with characteristically tight ensemble playing and eventually yields expressive solos from Light and Pennicott as well as vigorous exchanges between the two. The ethereal "Dream Machine" is a feature for Berliner and is marked by the leader's bass solo as transition from the peaceful rural to the bustling urban. Berliner's second appearance is as the major chordal instrument (no piano) in the fast paced "Gravity," which also features the leader's bass very much in the forefront (which is true throughout). Pennicott returns for "Aurora Unbound," stating emotive improvised runs and clusters, deftly using echo effects with subtle but increasingly intense funky support from the bass-drum tandem. Later Light weighs in, sustaining the theme.
Following the second bass interlude, guitarist Light begins his solo deliberately on "Better Intentions" but his sharp chording and jagged, spiraling lines build in intensity behind the support of the core piano trio who in one sequence render a jitterbug like dance before the guitarist returns. The bassist weaves her arco with Light as they commence "Sink or Swim" with Pennicott stating the theme and digging deep while drummer Peri remains steady and poised, only to send up fireworks toward the end. The third interlude belongs solely to pianist Laden, a gorgeously refreshing sigh of calm after the preceding energetic compositions. It segues nicely into "Shadow Mind," picking up momentum when the bass and drums join along with impressive unison, resonating lines with Light. The piano remains prominent in "Sizzler," as Laden and Light take slithery approaches, buoyed by feisty bass and drums with Pennicott joining in for the cascading unison passages before Peri brings it to a rousing climax. The closing "Eat Dessert First" is a bouncy, intricate rhythm piece, rendered by the core quartet with incisive playing from all four players.
Kaisha's Machine brings a vibrant pulse and presents several unexpected twists in this highly inventive music, keeping the listener highly engaged throughout. If Taking Shape represents a new beginning for Maensivu's ensemble, we certainly look forward to an encore.
Help Support Making a Scene
Your Support helps us pay for our server and allows us to continue to bring you the best coverage for the Indie Artists and the fans that Love them!
Make a one-time donation
Make a monthly donation
Make a yearly donation
Choose an amount
Or enter a custom amount
$
---
Your contribution is appreciated.
Your contribution is appreciated.
Your contribution is appreciated.
Donate
Donate monthly
Donate yearly
You can donate directly through Paypal!
Subscribe to Our Newsletter