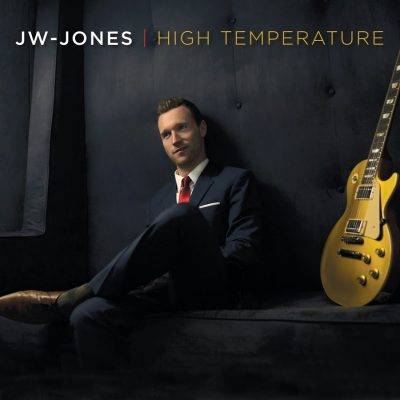 JW Jones
High Temperature
Solid Blues Records
Molson Golden Ale, Iceberg Vodka and JW Jones; these are among my favorite Canadian exports. Although Jones' influences include fellow Canadians Ronnie Hawkins and Colin James he has absorbed all the blues, rock, and country music that has come before him.
In 2000 Jones released his first album "Defibrillatin" on the Northern Blues label. Jones fifth album 2008's "Bluelisted" featured special guest Little Charlie Baty. His next recording 2010's "Midnight Memphis Sun" included both Hubert Sumlin and Charlie Musselwhite. Jones' released "Seventh Hour" in 2012 and his last recording 2014's "Belmont Boulevard" on Blind Pig Records was produced by Tom Hambridge.
This is Jones' ninth recording overall. Once again Jones chooses to use a producer and this time has chosen fellow Canadian Colin Linden. Linden is a singer, and songwriter who also is a member of the band Blackie and The Rodeo Kings. His production credits include his own albums, the Rodeo Kings albums, Lucinda Williams and Janiva Magness. The band includes Jones, vocals and guitar; Linden, guitar; Kevin McKendree, keyboards; Dominic John Davis, bass; and Bryan Owings, drums and percussion. On several tracks Jones chooses to use his touring band of Laura Greenberg, bass; and Mathieu Lapensee, drums.
Linden has co-written three of the tracks. The opener "Price You Pay" was written with Nashville's Gary Nicholson and originally appeared on Linden's 2009 album "From The Water". Jones' clear tenor is a pleasure.
"How Many Hearts" was co-written by Linden and Jaida Dreyer and it's a vocal duet between her and Jones. My favorite however is "Away Too Long" written by Linden with Anders Osborne and featuring McKendree on the B-3; from start to finish this is a great song.
Then there are the covers. The title track "High Temperature" was written by Little Walter and appears on his 1957 album "Confessin' The Blues". "Midnight Blues" was written by country artist Charlie Rich in 1962 and it's a great performance by Jones. The instrumental "Wham" is from Lonnie Mack's 1963 debut. On these the rhythm section of Greenberg, bass; and Lapensee, drums, are featured.
"Murder in My Heart For The Judge" was written by Jerry Miller and Don Stevenson of the band "Moby Grape" and appears on their second album 1968's "Wow"; this is another fabulous performance by Jones. "Out in The Woods" is from Leon Russell.
Then there are the songs co-written by Jones and Dick Cooper. "Who I Am" is an introspective look into Jones. My favorites "Same Mistakes" and "Leave Me Out" are both fabulous. The other two by them are "Already Know" and "Where Do You Think I Was". On these Liam Russell sings harmony.
Great vocals and fabulous guitar solos highlight this new recording from Jones. Repeated listening will only cause you to like it more.
Richard Ludmerer