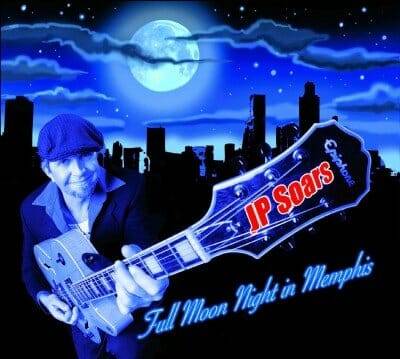 JP Soars
Full Moon Night in Memphis
Soars High Productions
JP Soars first album was "Back of My Mind" released in 2008. JP Soars and The Red Hots won the 2009 band competition at the International Blues Challenge in Memphis. In 2011 his "More Bees with Honey" album was released. That album garnered Soars a nomination at the 2012 Blues Music Awards as "Contemporary Blues Male Artist of The Year".
In 2013 Soars released three more albums. "Live from The Netherlands" and "As Live as It Gets" with Jimmy Thackery, are both available on his website. 2013 also saw the release of "Southern Hospitality: Easy Livin", a supergroup, featuring Soars, Damon Fowler and Victor Wainwright.
On this new album all but two songs were written by Soars." Soars opens with the title track about the night in Memphis when he and The Red Hots won the IBC band competition. Brandon Santini guests on harp.
"Back to Broke" sounds like a tune that might appear on a future Southern Hospitality recording. It rocks from start to finish. "Makes No Sense" is a beautiful ballad with a great guitar intro and solo from Soars. Soars is a gritty but soulful vocalist.
On "The Back Room" the band gets into a jubilant groove. The Florida Department of Tourism can use this song "palm trees, and alligators, and plenty of sand, Lake Okeechobee, some of the bes' fishin'".
"The Viper" includes some gypsy guitar from Soars. Clarinette and trumpet help complete the sound. On "Lil'Mamacita" Soars dazzles us with some Flamenco.
"The Road Has Got Me Down" features Soars on lap steel guitar. It is a vocal duet with Teresa James. Santini is again on harp. "Missin' Your Kissin'" is a great jump blues featuring Terry Hanck on sax.
Soars also includes T-Bone Walker's "Mean Old World" and ragtime pianist J. Russell Robinson's "Reefer Man". On the later Soars and co-producer Jeremy Staska have added horns and backing vocalists.
Check out this great new recording from JP Soars.
Richard Ludmerer