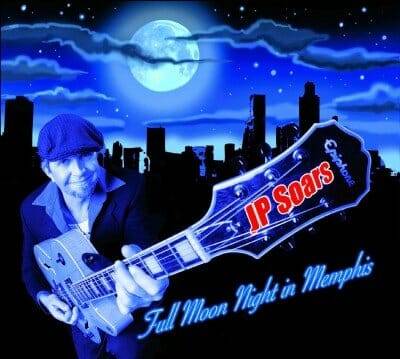 Before Full Moon Night in Memphis, I have to admit I was woefully unaware of JP Soars, even though he and his band The Red Hots won the International Blues Challenge in Memphis in 2009. But now that I've heard the album, I am truly impressed!
The title and title tune, "Full Moon Night in Memphis," refer to that night in 2009 when JP Soars and the Red Hots won the Challenge in Memphis and a lot of things were suddenly not the same. Before that Soars had toured with Florida metal bands and played "Gypsy Jazz" as a solo performer and in duos. His diverse background influences his blues styles to give him a unique sound that, coupled with his rough-edged, growling vocals, immediately catch the attention of the listener.
Soars is a Florida musician and that locale also informs Full Moon Night in Memphis, with references to gators and swamps in songs like "Way Back Home" and "The Back Room." Other songs reflect the universal plight of the musician, such as :"Back to Broke," "The Road Has Got Me Down," and "Missin' Your Kissin"".
I love a song that makes me laugh out loud, and Soars provides that with "Reefer Man." Then there's the delightful Latin-flavored instrumental, "Little Mamacita."
Of the 14 excellent tracks on the CD, 12 of them were written by Soars, "Reefer Man" and T-Bone Walker's "Mean Old World" are the only non-original numbers. Brandon Santini helps out on harmonica on a couple of numbers, and Teresa James provides background vocals on "The Road Has Got Me Down." All of the musicians featured on the CD create a very satisfying sound, and Soars himself plays electric and acoustic guitar, dobro, lap steel, bass, and the 2-string cigar box guitars he makes himself.
You will enjoy Full Moon Night in Memphis. It is a brand-new release so get it now and help it get the attention it deserves!
*Parts of this review also appear at http://www.examiner.com/article/jp-soars-releases-full-moon-night-memphis-comes-to-darwin-s-marietta?cid=db_articles