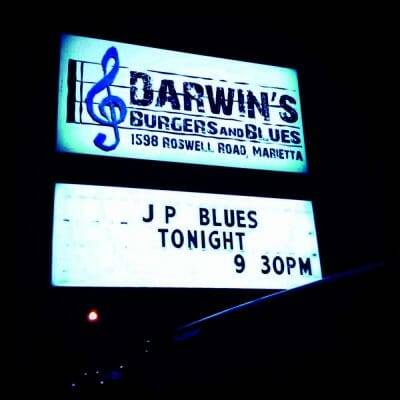 JP Blues recently released a digital only live recording from a show at Darwin's Burgers and Blues in Marietta, GA. JP is a favorte there and the crowd was thrilled to see him and his band.
Reviewing an earlier show at Darwin's, I wrote,
It's a cliche' to speak of musicians making a guitar "sing" or "wail", but JP doess for JP Blues himself, oh my that, and he makes it make a lot of other sounds you would not think six strings could make. In fact, he is the sort of musician who becomes so at one with the music and the instrument that you almost wonder who is playing who. It's almost as though he was possessed, or that he and the guitar meld into something more than either one of them. It's something to see, alright, and amazing for a young man still in his 20's."
All of that is still true for this live recording.
JP has a voice that is made for the blues, with a rock edge and an outlaw growl perfect for modern blues-influenced music. We've seen him a number of times now, and he just gets better and better.
On this release, some highlights are "99 Problems," "Old Man Joe," and the touching tribute to Frank LaTorre, "Another Time, Another Place," but you are sure to find your own favorites. And then there's the fantastic jam with master Atlanta guitar player Truett Lollis on "Good Morning, Little Schoolgirl."
You can download Live at Darwin's in a number of places online. A quick Google search will show you where. Do yourself a favor and do it now.
(T