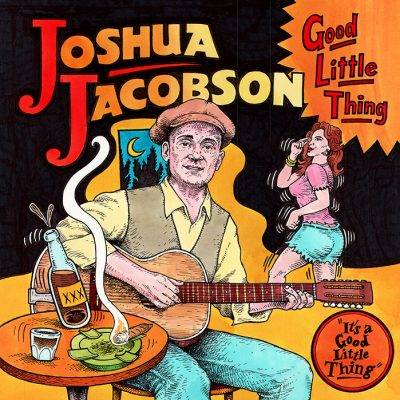 Joshua Jacobson
Good Little Thing
Fatmouth Records
The rural Appalachian Mountains and the rolling plateau region to the east known as the Piedmont includes both Virginias, the Carolinas, Georgia, Tennessee, Kentucky, parts of Alabama, and Pennsylvania. White and black musicians from these mountains and cities influenced each other as they were exposed to a broader mixture of music than those in the Mississippi delta. Thus, Piedmont Blues was influenced by ragtime, country and popular music. The Atlanta area in the 1920's held a thriving African American musical community. Curley Weaver, a guitarist from Covington Ga. was the king of the Newton County blues style. He hung with the likes of Blind Willie McTell and Buddy Moss. Weaver's daughter Cora Mae Bryant grew up in the 1930's and also became a legendary blues singer. Her protégé was a guitarist named Joshua Jacobson who was also raised in Newton County.
Cora Mae released two cds for the Music Maker Foundation. Her award winning "Born with the Blues" was followed by "Born in Newton County". Timothy Duffy of The Music Maker Foundation wrote "a special note of appreciation must go to JJ for learning to play the guitar so well and being such a devoted pupil of this great blues bard". There are at least 16 videos on You Tube of her with Jacobson. Unfortunately Cora Mae passed away in 2008 at the age of 84.
In 2014 Jacobson competed in the Atlanta Blues Societies IBC Challenge. This is Jacobson's debut recording. Supporting musicians include guitarists Dickey Betts and Damon Fowler; barrelhouse pianist Clark Stern; drummer Aaron Fowler; and bassist Mookie Brill. Other contributors include Matt Walker, Pedro Arevelo, "Jefe" Arevelo, Chris Flowers, Hill Roberts and Allan Jolley. Jacobson has an articulate and soulful voice and plays both a six string and a vintage twelve string guitar similar to the one played by McTell. His original songs combine the traditional with the topical. My favorite tracks include "Bipolar Mama is much too manic for me"; "Baby's Mama Really Don't Care" about how he comes up with the monies for child support; "Pistol Packing Papa" featuring Betts; "Codependent Katie" and "Twerkin' Lil' Mama". Jacobson also reprises Weaver's "Ticket Agent" and Cora Mae's "Cross the River of Jordan".
We are the benefactor's of Jacobson's obvious dedication to his craft as he shares his fascination with Piedmont Blues. He is carrying on the tradition.
Richard Ludmerer
[amazon_link asins='B06XFS41JM,B06XFTVZX2,B06XFST5N1,B06XFZHWPM,B06XFTW1BS,B06XFST99K,B06XFS3YNS,B06XFS1MM1,B06XFRM2PP' template='ProductCarousel' store='maasc-20′ marketplace='US' link_id='ef33067b-6ef9-11e7-b762-49de947694c1′]