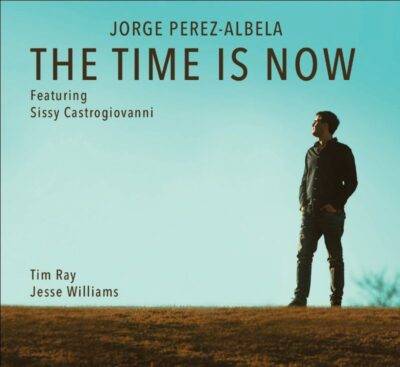 Jorge Perez-Albela – (featuring Sissy Castrogiovanni)
The Time Is Now
Self-released
Back on Mother's Day we brought you the wonderful album, Terra, from jazz and world music vocalist Sissy Castrogiovanni. Now it's her husband's turn. The Time Is Now is the debut for drummer, percussionist, educator, and now band leader Jorge Perez-Albela. Like his spouse's album, he brings a palette of multiple
jazz influences and his South American roots including rhythms from Peru, Argentina, Brazil, Africa and India. The album also features many of the same musicians that graced Terra including vocals from Sissy alongside pianist Tim Ray and bassist Jesse Williams, with reappearing soprano saxophonist Lihi Haruvi and new additions of guitarist/vocalist Santiago Paredes and trumpeter Phil Grenadier alongside Jorge on drum set, Peruvian cajón, percussion and vocals. Grammy winner sound engineer Rob Griffin recorded and mixed the effort.
The album begins with a track entitled "The Mirror," emblematic of the unity theme that Perez-Albea weaves through the ten selections. The piece begins with the rhythmic musings of the leader, ushering in Sissy Castrogiovanni's fervent, passionate voice. Pianist Tim Ray improvises with his bright, glistening lyrical approach before Harvivi steps in with a melodic soprano solo. "A Mis Padres" is a tribute to Jorge's parents. The lyric "I want to be the light in you" refers to the reflection of love between parents and children. Beginning with a stripped down bass, cajón (an African-Peruvian drum), it has wonderful solos by pianist Tim Ray and bassist Jesse Williams with another strong turn from Sissy.
"Shining Star" is based on rhythmic elements from Brazil and Peru with an animated Sissy vocal delivering a message of hope and encouragement as Ray plays joyously. The melody for "Gratitude" is based on a concert where Boston musicians honored Jorge's mentor, Dominican percussionist Vicente Lebron, another nod to the theme of community. "N.I.T.T." is a bit of an experiment combining elements from Afro-beat and Indian rhythms, as the song speaks to urgency and need to build a kinder, healthier world as in the album's title. It's the one track that features Jorge's voice and is a departure from the preceding tunes in both rhythm approach and with Ray on electric rather than acoustic piano.
The repeated ostinato figure and fiery vocals from Sissy stir the moody atmosphere of "El Reto," written during a particularly challenging portion of Jorge's life. Themes of isolation, despair, and hope intersect. At the beginning, the lyrics evoke the fear of a challenge, perceived as insurmountable. But as the song progresses, lies the hope and the conviction that everything passes. "Your belly announces the dawn" is a metaphor for rebirth. The chorus, a surge of courage and hope, carries the message that we are not alone. When we trust the process and embrace others' loving support, we can get through the toughest times. This is the lone track where we hear Santiago Paredes' guitar.
The lone cover, "Raices (Ritmo de Negros)" stands out due to its celebratory opening and the spirited duo vocals of Paredes and Sissy. This one traces to Jorge's Peruvian folklore identity. It was written by Pepe Vasquez as a tribute to his father, Don Porfino Vasquez, the patriarch of one of the most prominent Afro-Peruvian musical families. After the stunning vocal climax to the former, "Viento de los Andes" begins mysteriously and quietly. Translated to "The Wind of the Andes," it's a message to honor nature, connoted by the wind whistling through Cuzco's Sacred Valley. It has Sissy's most nuanced, expressive vocal on the disc.
"Pra Brasil" is a samba honoring the said country and its music that influenced Jorge when growing him. His sister spend time in Rio De Janeiro and brought home a treasure trove of music that filled Jorge's home. This is another of the two tracks where Ray reverts to electric keyboards and, naturally, he delivers a swinging solo and Jorge answers with one of his only extended drum solos. "Hope (The Time Is Now)", the album's final track and most fully instrumented piece with both soprano sax and trumpet, encapsulates the energy of the full release. The track is as much of an admission of hope as it is a call to action to never silence our inner voices; to live and to share your talents, passion and vision.
This an uplifting, wonderful meshing of jazz and world rhythms with terrific vocals should bring smiles. As Jorge writes in the liners, "Music unites us. Music connects us to the truth." Take the time to read the lyrics and appreciate the warm messaging conveyed through this music.
Full lyrics and translations are available at www.jorgeperezalbela.com
More About the Artist:
Born in Lima, Peru, Jorge Pérez-Albela began playing drums at age 16. He comes from a long line of musicians and educators that includes Isidoro Purizaga, Rafael "Pocho" Purizaga and Kike Purizaga.
In the early nineties Jorge kept a busy schedule performing with Latin Grammy-winning singers Gian Marco and Eva Ayllón. Perez-Albela begins studies in Afro-Peruvian music and its staple percussion instrument, the cajón.
In 1994, following his passion for Jazz, Pérez-Albela relocated to the United States to study at the Berklee College of Music, where he graduated with a Bachelor's Degree in Professional Music, later he graduated Summa Cum Laude from Berklee's Global Jazz Institute obtaining his Masters Degree in jazz performance.
Jorge has performed or recorded with Grammy-winning artists: Maria Schneider, Danilo Perez and Ruben Blades, as well world renown George Garzone, Avishai Cohen, Sofia Rei, Claudia Acuna, Tania Libertad, Mili Bermejo, Joey Blake, Sissy Castrogiovanni, Tal Gamlieli, Roni Eytan, Daniel Blake, Grace Kelly, Jason Palmer, Tim Ray, Geoffrey Keezer, Bert Seager, Jarrett Cherner, Kevin Harris, Marco Pignataro, Juan Medrano "Cotito", Claudio Ragazzi, Eric Kurimski, Bruce Bartlett, Yuri Juarez, John Lockwood, Rufus Reid, Eddie Gomez, and Jorge Roeder.