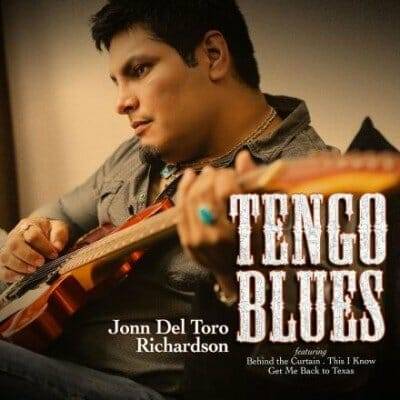 Jonn Del Toro Richardson
Tengo Blues
Vizztone Label Group
Jonn Del Toro Richardson grew up in the Houston, Tx. area where he learned a broad range of music styles from Latin and Mariachi to the Blues.
Richardson became a member of Diunna Greenleaf's "Blue Mercy" band and when that band won the 2005 International Blues Challenge Richardson became the recipient of the Albert King award for "Most Promising Guitarist".
Richardson's first studio recording was 2011's "Time Slips On By" with mandolinist Rich Del Grasso. Richardson's followup recording was with fellow Albert King award winner Sean Carney. Their "Wild Ride" was released in 2013.
This is only Richardson's third album and first solely under his name. The album was produced by fellow Texan Anson Funderburgh who put together a fabulous band. They are Richardson, guitar and vocals; Uncle Lawrence Del Toro, percussion; Nick Connoly, keyboards; Nathan Rowe, bass; Wes Starr, drums; and the fabulous Texas Horns, Kaz Kazanoff, tenor sax; John Mills, baritone sax; and Al Gomez, trumpet. All of the songs were written or co-written by Richardson.
"Behind The Curtain" opens with The Texas Horns while Richardson takes an airy guitar solo.
"I'm Her Man" and "Can't Run from Love" were co-authored with Gary Vincent. On the former Richardson sings to his guitar.
"Love If You Want It" and "Wild Ride" were co-written with Funderburgh who sits in on the later on rhythm guitar.
"Triple Lindig" is a jazzy instrumental featuring Richardson's guitar along with Connoly on the B-3, and the saxes of Kazanoff and Mills. They switch to a Latin beat on "The Moment". Gomez is featured on trumpet.
"Get Me Back To Texas" and "Tall Pretty Baby" both rock from start to finish. The album closes with the jazzy title track "Tengo Blues".
The combination of The Texas Horns, some Latin rhythms, and Richardson's guitar and vocals just can't be beat. This is highly recommended.
Richard Ludmerer