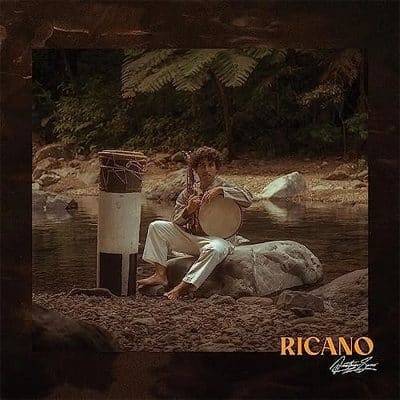 Jonathan Suazo
Ricano
Ropeadope
Getting directly to the point, although Ricano is the debut for the Puerto Rican saxophonist and composer Jonathan Suazo, it rivals last year's Best Latin Jazz Grammy-nominated Música De Las Américas by fellow Puerto Rican Miguel Zenón. It's that impressive. Suazo has both Puerto Rican and Dominican roots and fuses these Afro forms with jazz as well as chants, lyrics, danceable music and improvisation in this stunning debut. Luminaries such as Zenón and tenorist David Sánchez of course, blazed these pathways and Suazo is gracious enough to include them as special guests. A full list of personnel is below but these other musicians and vocalists are also especially notable including percussionists Enrique "Kike" Serrano, Florentino "Magic" Mejía, and Otoniel Nicolás, cuatrista and singer Fabiola Méndez, singer Tanicha Lopez, bassist Ricky Rodriguez, cuatrista Christian Nieves, pianist Josean Jacobo (whose albums as a leader we have reviewd on these pages) and rapper Emil "El Hijo de Borikén" Martínez.
The inspiration for the project came during Suazo's time at the Berklee Global Jazz Institute, when he took several research trips to both islands. As such, each composition nods to Puerto Rico and the Dominican Republic sometimes separately and sometimes in combination with each other. Most of these tunes, like the opener, "Somos más que tú," have chants and lyrics. Ramon Suazo, presumably Jonathan's brother, is a beast on tenor in this a tribute to the late cultural leader Tito Matos, inspired by the plena genre of music native to Puerto Rico. The title translates to "We are more than you. Meaning that we are more than any oppressor or corrupt politician." Expressing this theme in the original lyrics is vocalist Emil "El Hijo de Boriken" Martinez. "Héroes," rife with percussion, vocals, and chants takes us to the Dominican Republic, based on the sounds of Dominican salve, and dedicated to Enerolisa Nuñez and her daughter Yeni Nuñez, two leaders from the community of Mata los Indios, who have kept this musical tradition alive for decades. We hear Suazo soloing extensively on his alto in the latter section.
Island hopping, we go back to Puerto Rico for "Esperanza pa' mi pueblo," Suazo soaring, exhibiting lyrical command and passion amidst vocal chanting to the joyous Afro-Puerto Rican cuembé rhythm with Anibal Cruz chiming in with strong keyboards. The energy dissipates for the tranquil "Verde Luz," considered a second national anthem for Puerto Rico. Tanicha Lopez sings the first section while Suazo leads a quartet in the second half, burning with yearning for his homeland in his solo, while pianist Eduardo Zayaz delivers an intense solo as well. Vocalist Lopez returns, bringing the tune to an explosive climax.
Surely, we next return to the Dominican for the rhythmic study based on the high and low pitches found in the main pattern of palo. Suazo switches to tenor here as altoist Miguel Zenón appears with his distinctive approach, marrying the fluid and the aggressive so beautifully as native Dominican Jacobo plays piano and arranges the meringue section. "Don't Take Kindly" rings with anger from its opening notes. With Suazo playing fiercely to a modified Puerto Rican Yubá pattern, we also hear poignant vocals Tanicha Lopez and Génesis Dávila, as well as a teeming bass solo from Ricky Rodriguez, all expressing the rage Suazo felt when encountering racism in his move to Boston. A gentler commentary on racism follows in "Ser de Aqui," rendered in the Puerto Rican jíbaro style called aguinaldo lamento, and sung compellingly by the composer of the lyrics, Fabiola Méndez.
"Seguimos Luchando" combines motifs from both islands in another politically motivated theme that speaks to the power of the individual against oppression with tenorist David Sanchez weaving his way through Dominican congo and Puerto Rican sicá. The brief spoken word excerpt is from a motivational speech by Puerto Rican nationalist Dr. Pedro Albizu Campos. The word dharma means 'purpose in life," and here in the tune of that same name, Suazo highlights the Puerto Rican bomba rhythm known as Yubá, which those familiar with Afro-Caribbean vocabulary knew he would get to eventually. The two guitarists, Rafael Rosa and Gabriel Vicéns feature prominently as well as vocalist Dávila, percussionist Beto Torrens, and a spiraling, spell binding turn from the leader. The concluding "Amapola," with its decidedly more contemplative sound is not a Suazo original but instead composed by the Dominican musical titan Juan Luis Guerra
Debuts don't usually earn awards, but Suazo has delivered a remarkable project more than worthy of consideration. This writer is not backing off from the opening sentence. That said, this also presages a boundless future for Suazo.
Musicians
– Jonathan Suazo – All Original Compositions, Arrangements, Alto Sax, Tenor Sax (5) Vocals (1, 2, 7),
– Ramon Suazo – Tenor Sax (1)
– Miguel Zenón – Alto Sax (5)
– David Sánchez – Tenor Sax (8)
– Fabiola Méndez – Vocals, Lyrics & Cuatro Puertorriqueño (7)
– Christian Nieves – Cuatro Puertorriqueño (3)
– Emil Martínez Roldán "El Hijo de Borikén" – Soneo (1)
– Eduardo Zayaz – Piano, Keyboard (1, 2, 4, 6, 7, 8, 9)
– Anibal Cruz – Piano, Keyboard (2, 3)
– Josean Jacobo – Piano, Co – Arrangement on Merengue Section (5)
– Francisco Alcalá – Drums (1, 2, 3, 4, 6, 8, 9)
– Tanicha López – Voice (1, 2, 3, 5, 7), Vocal arrangement oversight (9)
– Génesis Dávila – Voice (1, 2, 5, 9)
– Giovanni Ortíz – Bass (1, 2, 7, 8, 9) Percussion Sound Design (10)
– Hans Glawischnig – Bass (5)
– Ricky Rodriguez – Bass (6)
– Ramon Vázquez – Bass (4)
– Juan Maldonado – Bass (3)
– Rafael Rosa – Guitar (9)
– Gabriel Vicéns – Guitar (8) Intro (9)
– Juan Aldahondo – Electric / Acoustic Guitar (2, 10)
– Kike Serrano: Co – Arranger (1) Afro Puerto Rican Percussion (1, 3, 6, 8, 9)
– Beto Torrens – Afro Puerto Rican Percussion (9)
– Miguel Martínez – Güícharo Puertorriqueño (1) Afro Puerto Rican Percussion (7)
– Yilianny Polanco – Güira Dominicana (1)
– Otoniel Nicolás – Afro Dominican Percussion (2, 6, 8, 10) Drums (5)
– Florentino "Magic" Mejía – Afro Dominican Percussion (5)
– Felix "Abuelo" García – Tambora Dominicana (5)
Help Support Making a Scene
Your Support helps us pay for our server and allows us to continue to bring you the best coverage for the Indie Artists and the fans that Love them!
Make a one-time donation
Make a monthly donation
Make a yearly donation
Choose an amount
Or enter a custom amount
$
---
Your contribution is appreciated.
Your contribution is appreciated.
Your contribution is appreciated.
Donate
Donate monthly
Donate yearly
You can donate directly through Paypal!
Subscribe to Our Newsletter