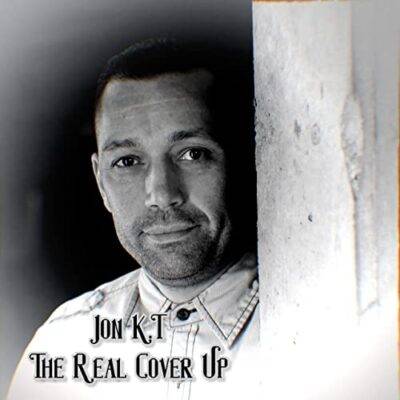 Jon KT
The Real Cover Up
KT Productions
Jon Lindley was born in England and currently lives in Wisconsin.
He is an independent music producer and audio engineer. He started with music at an early age and taught himself to play drums and keyboards. After many years of working in the woodworking industry, he decided to go his own way and turn his hobby into a profession. He went back to school graduating in 2011 with an Associates Degree in Recording Technology from the Madison Media Institute in Madison Wisconsin. To further my education I acquired a Bachelor's Degree from Full Sail University in Music Production, and recently graduated with my Master's Degree in Entertainment Business at Full Sail University.
His 'collection' of awards is well deserved: 2 International Bronze Reel Awards – 2016, impressive 4 UK Songwriter Awards – 2018-19, 4 World Songwriting Awards – 2018-19, 1 International Singer-Songwriter Awards – 2019. And now he presents us his first solo project, an album inspired by his life and musical adventure. An album that is really more than successful with music that is as varied as Jon's life itself.
The album:
"Make The World Go Away", a great start for the album, a really catchy melody and already in the first song you are fascinated by the outstanding voice of Jon.
"Freight Train", a song with a touch of country music, impossible to sit still while listening.
"I'm Just A Country Boy", a quieter song, it reminds me of artists like Dean Martin, the lyrics are great and so are the vocals.
"Leaning On The Everlasting Arms" sounds like a gospel song, very rhythmic and gripping.
"Pledging My Love", another very calm song, a declaration of love and the goosebumps feeling is guaranteed.
"Little Ole Wine Drinker" makes you snap your fingers, a touchy melody and the interplay of the instruments is brilliant.
"(Remember Me) I'm The One Who Loves You" makes you feel like you're sitting in a bar, having a drink in front of you and listening to the fabulous music of the artist.
"Blue Eyes Crying In The Rain", what a wonderful sound, so calm and yet captivating.
"You Always Be The One I Love", another love song, an ingenious voice and an almost choral sounding piece, that really is the perfection of the art of singing!
"Pledging My Love", reggae version, the counterpart 'Pledging My Love' in a very cool reggae style that proves that Jon can really sing and play anything and that he cannot be tied to a single genre.
The album is, without exaggeration, one of the best I've heard to date. Varied, brilliantly sung, which is no wonder with the artist's really unique and ingenious voice, a perfect interplay of instruments and vocals, simply great and really highly recommended.
Help Support Making a Scene
Your Support helps us pay for our server and allows us to continue to bring you the best coverage for the Indie Artists and the fans that Love them!
Make a one-time donation
Make a monthly donation
Make a yearly donation
Choose an amount
Or enter a custom amount
$
---
Your contribution is appreciated.
Your contribution is appreciated.
Your contribution is appreciated.
Donate
Donate monthly
Donate yearly
You can donate directly through Paypal!
Subscribe to Our Newsletter