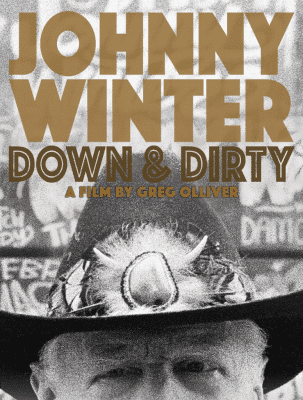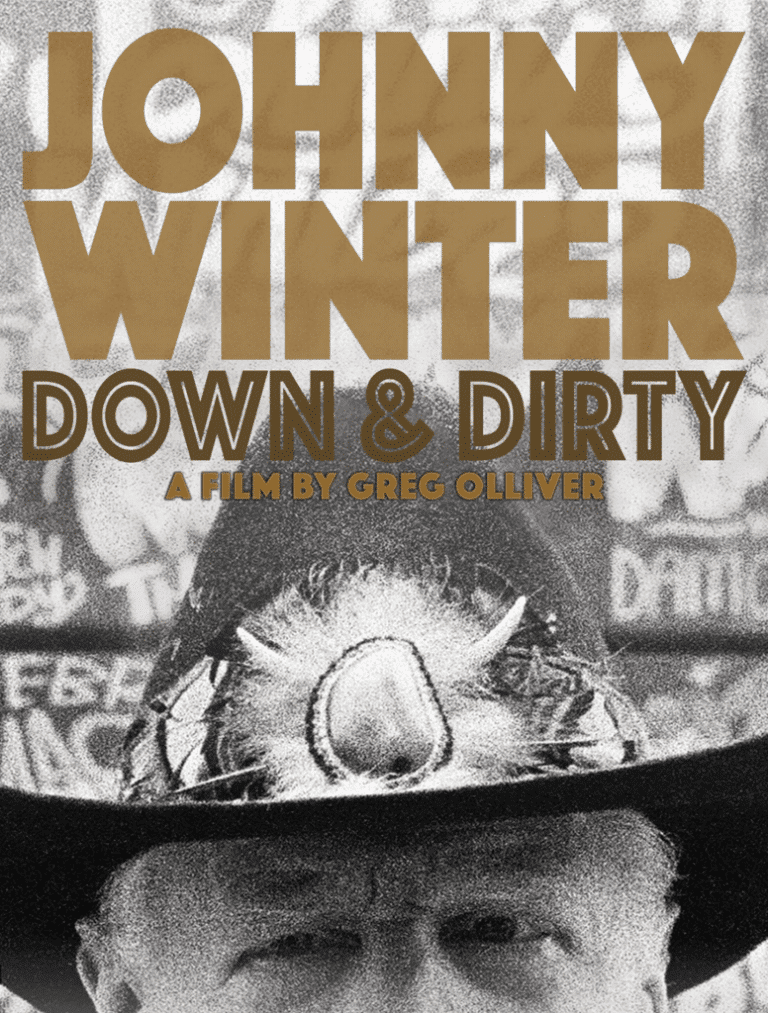 Johnny Winter
Down & Dirty
Secret Weapon Films
Director Greg Olliver became part of the Johnny Winter entourage. He traveled the world with Winter and his band for what would be the last two years of Johnny's life.
The DVD opens with Winter on his bus with his guitarist/manager Paul Nelson and bassist Scott Spray. They are deciding on a name for this movie and Winter suggests "Down & Dirty". It is agreed.
Winter is seen at home in Connecticut spinning some vinyl on a portable "hi-fi". He is playing and commenting on Robert Johnson's 1961 "King of The Delta Blues Singers" album. We see him watching his favorite TV show "All in The Family" Then we see him in his trailer as he signs autographs.
There are some archival photographs of Winter as a child with his brother Edgar. He was just starting out and nicknamed Johnny "Cool Daddy" Winter. We see him being interviewed with B.B. King; with Howlin' Wolf; and with Muddy Waters and James Cotton. We see him with Jimi Hendrix, Janis Joplin and with The McCoys.
Included are interviews with Nelson, Spray, Warren Haynes, Joe Perry, Billy Gibbons, Susan Tedeschi, and Derek Trucks. Especially nice are those with Edgar Winter and Tommy Shannon.
We see Winter in Beaumont, Tx. shortly after the death of his mom claiming the belongings of her safety deposit box. He drives up to the house he grew up in but is too emotional to go in. We get to see him with his wife Susan Warford Winter and they tell us how they first met in 1973.
Winter was a heroin user for two years before entering rehab. He took methadone for twenty years more. Nelson, his friend and manager, weaned him off methadone but did it unbeknownst to Winter. The most touching scene is Christmas 2010 when Winter learns that for the past year he had been taking empty capsules.
Winter talks about when he first purchased his Gibson Firebird guitar. We see him in the XM studios with Bill Wax; and at The Carriage House Recording Studio in Connecticut, recording a solo version of the Son House classic "Death Letter" for what will turn out to be his final album.
Olliver follows Winter and the band while they are on tour. In France; Hong Kong; Tokyo; Houston; New Orleans; Malabar, Fl and lastly at B.B. Kings in New York City where he celebrated his 70th birthday.
This is an incredible hour long presentation which needs to be seen. Greg Olliver and Paul Nelson have done a wonderful job; that's what friends do.
Richard Ludmerer