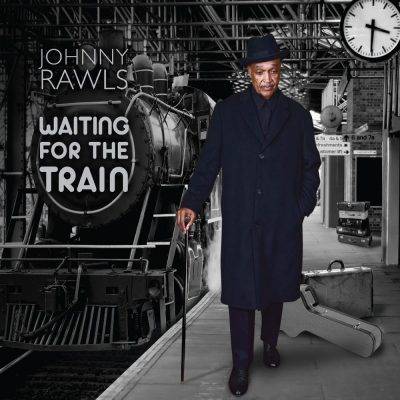 Johnny Rawls
Waiting For The Train
Catfood Records
Johnny Rawls was born in Hattiesburg Mississippi in 1951. Having mastered the guitar Rawls' schoolteacher arranged for him to back musicians when they were on tour through Mississippi. In 1975 Rawls joined O.V. Wright's band and became his musical director until Wright's passing in 1980. The Ace of Spades Band stayed together for another thirteen years and Rawls played with B.B. King, Bobby "Blue" Bland, Little Milton and others. In 1994 and 1995 Rawls and the bands guitarist L.C. Luckett released two albums as a duo. Rawls released his solo debut "Here We Go" in 1996. Rawls met Bob Trenchard in 1997 and together they produced Kay Kay and The Rays 2001 "Texas Justice" album.
Rawls began recording for Trenchard's Catfood Records in 2006. This is his ninth recording for the label. Since 2008 each of Rawls' albums received at least two Blues Music Award nominations. The songwriting team of Rawls and Trenchard received a 2012 nomination for their song "Memphis Still Got Soul". Rawls now has a total of eighteen BMA nominations including nine for "Soul Blues Male Artist"; and eight for "Soul Blues Album" winning in 2009 for "Ace of Spades".
Vocalist Rawls' band is still the Rays and four of them have been with him for over twenty years. They are Trenchard, bass; Richy Puga, drums; Dan Ferguson, keyboards; and Andy Roman, alto and tenor sax. They are rounded out by Johnny McGhee, guitar; Mike Middleton, trumpet; Nick Flood, baritone and tenor sax; Joel Chavarria, trombone; and Jon Olazabal, percussion. The background singers are Janelle Thompson and Shakara Weston. The album is produced by the Grammy winning Jim Gaines.
Five songs were written by Rawls and Trenchard. The opener "Rain Keep Falling ('Til I'm Free)" features Ferguson's keys, a great horn arrangement and a tasty guitar solo from McGhee. The title track "Waiting For The Train" is a modern gospel tune about the end of life; McGhee's solo is evocative. McGhee's rhythm guitar and the funky horns on "California Shake" will make you want to get up and dance; the background singers add the finishing touches. My favorite song "Blackjack Was A Gambler" includes the lyric "Jack ran a game in the back of an alley". "Stay With Me" is a beautiful song, beautifully sung by Rawls as the background singers complete the syrupy production.
Rawls' vocal is fabulous on "Las Vegas" written by Trenchard and labelmate James Armstrong. Once again the background singers provide the icing on the cake.
There are also four fabulous covers: Bob Dylan's "I Shall Be Released" recorded by The Band in 1968; Bobby Womack's "I'm in Love" recorded by Wilson Pickett also in 1968; Leo Graham's "Turning Point" recorded by Tyrone Davis in 1976; and Syl Johnson's "We Did It" recorded in 1973.
Rawls is a perennial BMA nominee. This highly recommended album is one of his best.
Richard Ludmerer
[amazon_link asins='B074BL9PB4,B019KDX9BO,B004Q7K260,B00EEPFVG0,B001BT1SKK,B007U63Z4U,B00MQVSEIG,B01FGRW1SA,B000A2H36M' template='ProductCarousel' store='maasc-20′ marketplace='US' link_id='ba81f3b9-958f-11e7-ad07-8baac40a54a8′]